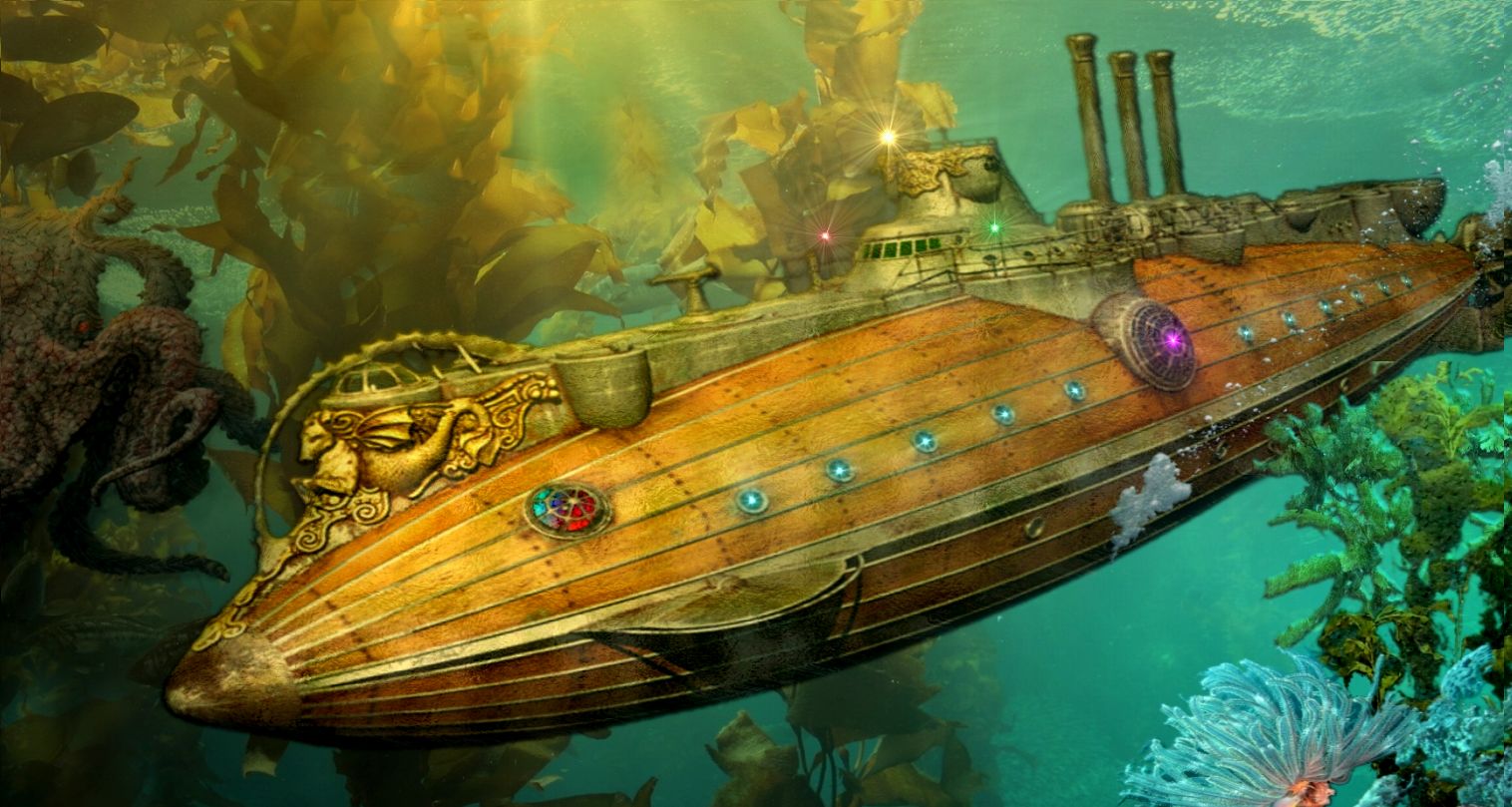 Best known for '20,000 Leagues Under the Sea' and Around The World In Eighty Days, Jules Verne also authored a number of other popular novels, that made it onto the big screen, such as 'The Mysterious Island,' and 'Journey To The Centre Of The World.'

Un capitán de quince años (A Captain of Fifteen Years) is a novel by the famous French writer Jules Verne , pre-published by installments in the Magasin d'Éducation et de Récréation from January 1 (volume 27, number 313) to December 15 (volume 28, number 336) of 1878, published in two volumes (July 1 and November 14, 1878) and in double volume on November 18 of that same year.
PLOT
Dick Sand is the protagonist of this story, along the following lines:

Dick Sand as a boy, is seen embarked with Mrs. Weldon, the latter's son named Jack and his cousin Benedict bound for Valparaíso in the Pilgrim , the best ship of Mrs. Weldon's husband, James W. Weldon, in command from Captain Hull, with a good crew who have known each other for a long time (except for the Portuguese Negoro, the cook).

Everything is going well, until Dick spots a sinking ship in the sea. Of all those who travel in it, only five black people are saved (Tom, his son Bartholomew ("Bat"), Actaeon, Austin and Hercules) and a dog named Dingo. This, according to the survivors, had been found in Africa by the captain of the now wrecked ship .

Time passes without any problem, until one day they run into a huge calf. Captain Hull, along with his accompanying crew, boards a hunting boat , which is attacked and rapidly sinks. As a consequence, Dick assumes the role of captain, with only fifteen years of age. The only one who doesn't like that idea is Negoro, who, for a reason to be explained later, breaks the compasses and causes the ship to veer off to an unknown course.

Unaware of the detour, Dick is caught by a storm and ran aground on the African coast by Negoro who, after running aground, has escaped with Mrs. Weldon's money. They believe they are on Peruvian coasts .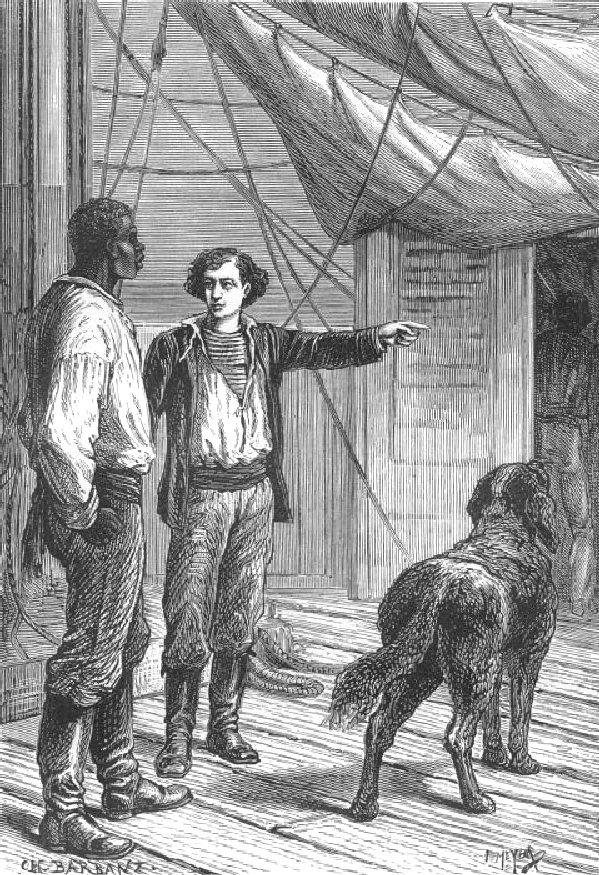 On the coast they meet a man named Harris, who tells them that they are on the coast of Bolivia . On Harris's advice, they go into the jungle, where they begin to have great suspicions when they see the animals that live there. Harris insists that they have been confused, and that the animals they have seen are neither Chilean nor native to America. When they hear a lion roar, Harris escapes to prevent Dick from knowing where they really are, as he overheard him talking to Negoro. The others head to a river in order to reach the coast.

Their path is interrupted by a great storm that forces them to take refuge in an anthill , which is almost flooded due to the overflowing of a nearby river. They leave the anthill, and on the way some slave traders under the command of Mr. Harris took them prisoner. They take them all by boat, but the one with Mrs. Weldon, Benedict and Jack takes a different course. Hercules is the only one who manages to escape. They take Dick along with hundreds of José Antonio Álvez's slaves to a city where they are traded. There, Dick ends Harris's life by stabbing him. After this, they condemn him to die by drowning next to the King of Kazoondé, who dies burned. However, Hercules manages to save Dick.

Mrs. Weldon, Jack, and Cousin Benedicto are housed at Álvez's factory. Benedict, who has managed to get out of there to capture a strange " hexapod " (which at the end of the story is known to be a spider without hind legs), is picked up by Hercules, who Hercules tells that he has fled and that it is he who has informed Dick of the lady's situation. Time passes, there is another storm and Hercules can kill the great wizard of Angola to impersonate him, and then he takes the passed out Mrs. Weldon and the boy Jack and escapes with them.

Afterwards, they all gather in a canoe and head out to sea: Dick, Mrs. Weldon, Hercules, Jack, Cousin Benedict and Dingo manage to save themselves.

Along the way they find a hut , guided by Dingo. They also find a letter that rectifies the story: Samuel Vernon, a French explorer, arrives in Africa with his dog Dingo. But he is betrayed and killed by Negoro during a reconnaissance trip inside, which is why Dingo would growl at Negoro when he saw him.

When Negoro arrives at the scene to dig up the money he stole from Vernon, he is attacked by Dingo. In the fight between the two, Dingo perishes, but mortally wounds Negoro.

After burying Dingo and Vernon, the protagonists are rescued by honest Portuguese merchants. Upon arriving in California, Dick is adopted as the son of the Weldon family, and Hercules becomes her friend.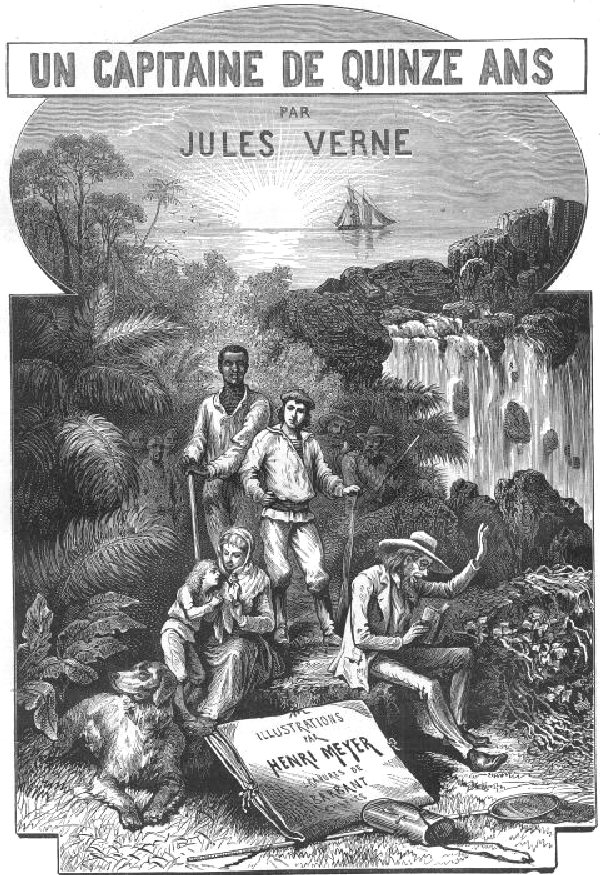 ..
Jules Verne was the author of many adventure stories:
1 Twenty Thousand Leagues Under the Sea - Full text Part 1, Part 2
2 Around the World in Eighty Days - Full text Index
3 Journey to the Center of the Earth - Full text Index
4 The Mysterious Island (Extraordinary Voyages #12) Full text Part 1, Part 2, Part 3
5 From the Earth to the Moon
6 Michael Strogoff (Extraordinary Voyages, #14)
7 In Search of the Castaways; or the Children of Captain Grant (Extraordinary Voyages, #5)
8 Five Weeks in a Balloon
9 Round the Moon (Extraordinary Voyages, #7)
10 Adrift in the Pacific: Two Years Holiday (Extraordinary Voyages, #32)
11 The Master of the World (Extraordinary Voyages, #53)
12 The Adventures of Captain Hatteras
13 Les Tribulations d'un Chinois en Chine; The Tribulations of a Chinese in China (Extraordinary Voyages, #19)
14 The Lighthouse at the End of the World
15 Mathias Sandorf (Extraordinary Voyages, #27)
16 Off On A Comet (Extraordinary Voyages, #15)
17 Los quinientos millones de la Begún (The five hundred million of the Begún)
18 Facing the Flag (Extraordinary Voyages, #42)
19 Un capitán de quince años (A fifteen year old captain)
20 El Testamento de un excentrico (The Testament of an eccentric)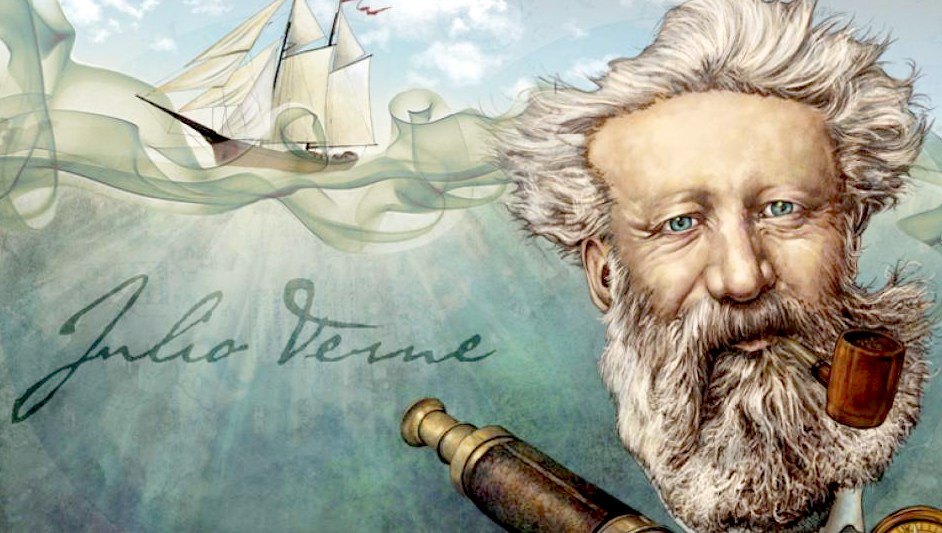 Jules Verne is also known as the Father of Science Fiction