The Steam House is also a historic monument located in Herstmonceux Sussex, just a few miles from Rudyard Kipling's house; 'Batemans,' at Burwash. Strange that a famous author of books about India, such as the "Jungle Book," should be so closely sited. Kipling died in the same year that electricity generation ceased in Herstmonceux; 1936. Jules Verne passed away in 1905, just as Charles de Roemer was developing his distribution system in the village. For sure, Rudyard Kipling and Charles de Roemer knew each other, as electricity innovators. Charles also passed in the thirties.
What with Verne predicting that hydrogen would be the fuel of the future, these authors are kindred spirits of sorts, despite one living in France and the others in England. Jules Verne was a frequent traveler to London and the south coast.
The Steam House (French: La maison à vapeur) is an 1880 Jules Verne novel recounting the travels of a group of British colonists in the Raj in a wheeled house pulled by a steam-powered mechanical elephant. Verne uses the mechanical house as a plot device to have the reader travel in nineteenth-century India. The descriptions are interspersed with historical information and social commentary.

The book takes place in the aftermath of the Indian Rebellion of 1857 against British rule, with the passions and traumas aroused still very much alive among Indians and British alike. An alternate title by which the book was known - "The End of Nana Sahib" - refers to the appearance in the book of the historical figure - rebel leader Nana Sahib - who disappeared after the crushing of the rebellion, his ultimate fate unknown. Verne offers a fictional explanation to his disappearance.
One of the Extraordinary Voyages series in 1880, 'La Maison à vapeur' (original title) was preceded by "Tribulations of a Chinaman in China" and followed by "Eight Hundred Leagues on the Amazon."
'The Old Steam House,' is also a historic electricity generating station located in Sussex dating from 1890, which ten years after the publication of the Jules Verne book, began supplying electricity, first to Lime Park, Church Road, and then to the whole village of Herstmonceux, including an electrically powered bakery, the village hall, and a cinema. It was the dawn of the age of electricity, powered by coal.
PLOT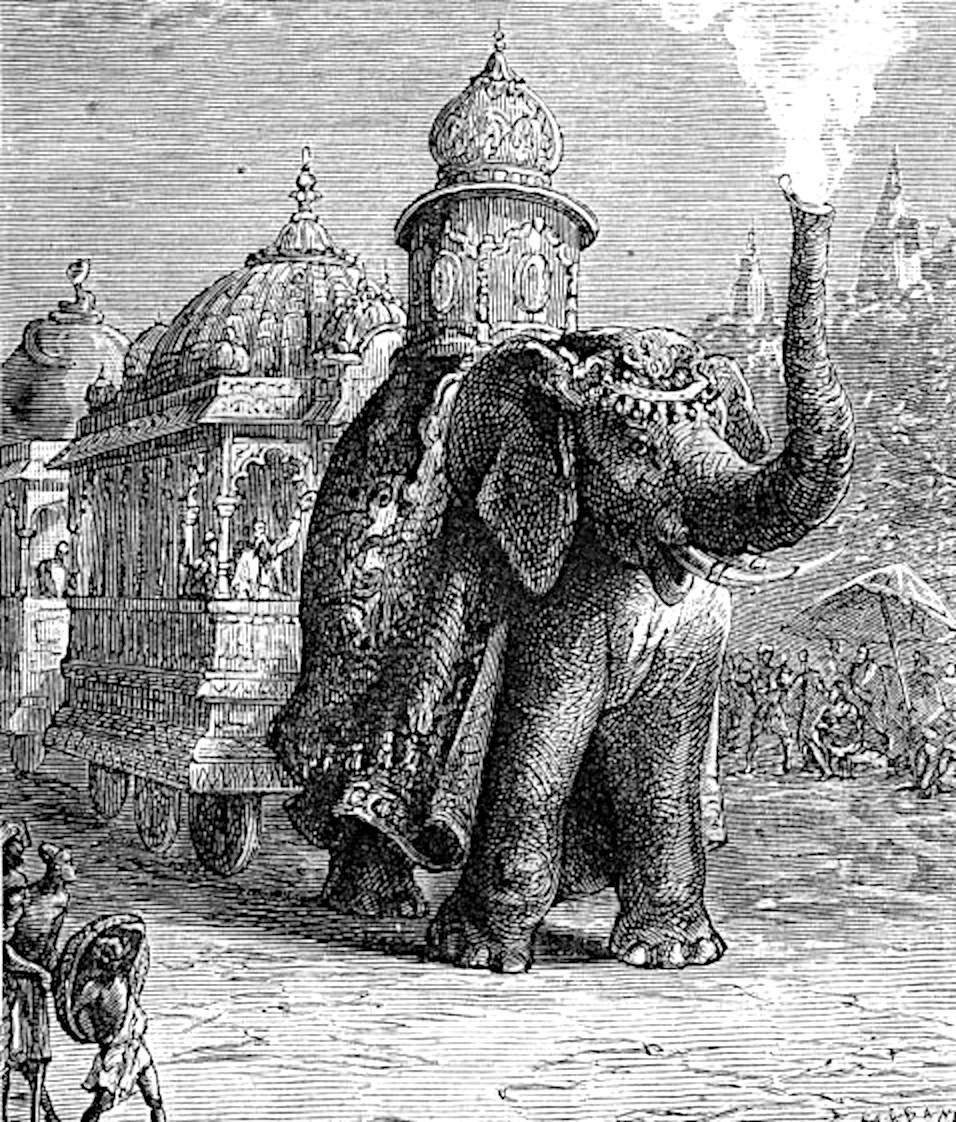 A house on locomotive wheels, is pulled by a mechanical steam powered elephant
Jules Verne was the author of many adventure stories:
1 Twenty Thousand Leagues Under the Sea - Full text Part 1, Part 2
2 Around the World in Eighty Days - Full text Index
3 Journey to the Center of the Earth - Full text Index
4 The Mysterious Island (Extraordinary Voyages #12) Full text Part 1, Part 2, Part 3
5 From the Earth to the Moon
6 Michael Strogoff (Extraordinary Voyages, #14)
7 In Search of the Castaways; or the Children of Captain Grant (Extraordinary Voyages, #5)
8 Five Weeks in a Balloon
9 Round the Moon (Extraordinary Voyages, #7)
10 Adrift in the Pacific: Two Years Holiday (Extraordinary Voyages, #32)
11 The Master of the World (Extraordinary Voyages, #53)
12 The Adventures of Captain Hatteras
13 Les Tribulations d'un Chinois en Chine; The Tribulations of a Chinese in China (Extraordinary Voyages, #19)
14 The Lighthouse at the End of the World
15 Mathias Sandorf (Extraordinary Voyages, #27)
16 Off On A Comet (Extraordinary Voyages, #15)
17 Los quinientos millones de la Begún (The five hundred million of the Begún)
18 Facing the Flag (Extraordinary Voyages, #42)
19 Un capitán de quince años (A fifteen year old captain)
20 El Testamento de un excentrico (The Testament of an eccentric)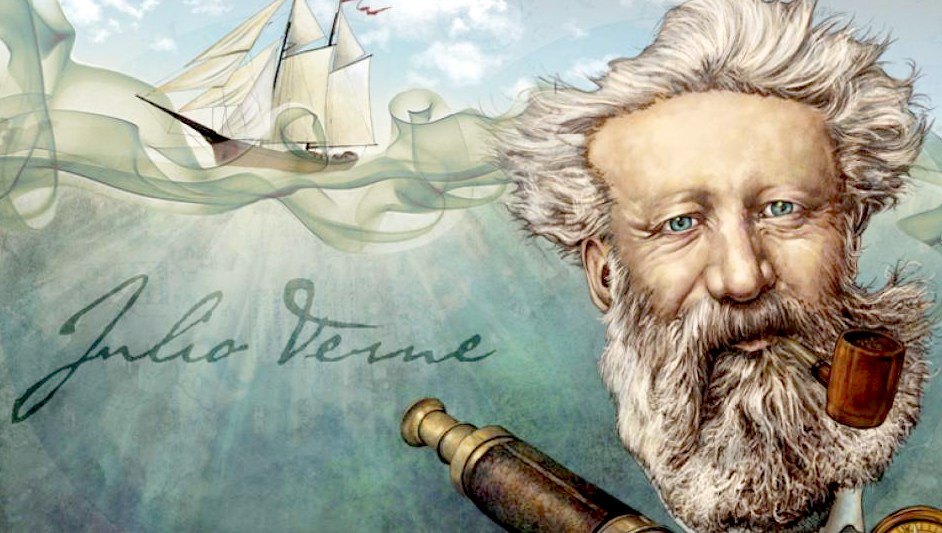 Jules Verne is also known as the Father of Science Fiction