The Steam House is also a historic monument located in Herstmonceux Sussex, just a few miles from Rudyard Kipling's house; 'Batemans,' at Burwash. Strange that a famous author of books about India, such as the "Jungle Book," should be so closely sited. Kipling died in the same year that electricity generation ceased in Herstmonceux; 1936. Jules Verne passed away in 1905, just as Charles de Roemer was developing his distribution system in the village. For sure, Rudyard Kipling and Charles de Roemer knew each other, as electricity innovators. Charles also passed in the thirties.
What with Verne predicting that hydrogen would be the fuel of the future, these authors are kindred spirits of sorts, despite one living in France and the others in England. Jules Verne was a frequent traveler to London and the south coast.
PLOT PART ONE
In the summer of 1866, in Aurangabad, the British colonial government announces a bounty on the head of Nana Sahib, who is supposed to be hiding in that presidency. Nana Sahib, disguised as a sage, stalks and kills the man who claims to know face of Nana Sahib. Nana Sahib escapes from Aurangabad the same night and, taking his brother Bala Rao and followers, hidden in Ajanta and Ellora caves respectively, retreats to the Vindhiyanchal mountains to hide from colonial forces.

Nana Sahib, along with his brother and followers, hides in various small fortresses called Pals, and mostly inside Pal of Tandil. His brother Bala Rao, who is extremely similar to Nana sahib in physical appearance, inquires about the inhabitants of the fortress and learns from locals that none except local outlaws, insurgents and a mad woman knows about the place. The mad woman is known as Rowing Flame as she carries a burning torch and roams the wilderness in the valley of Narmada. The locals respect the mysterious lady and feed and cloth her. From this hiding place, Nana Sahib launches an underground movement and secretly visit local chieftains for persuading them for an uprising.

Meanwhile, in Calcutta, a group of Europeans is planning for a voyage through India. The group consist of Banks, a railroad engineer; Maucler, the French adventurer and narrator for most of the story; Captain Hood, a hunter craving his half century of tigers, retired Colonel Sir Edward Munro, whose motive behind joining this expedition is to find and kill Nana Sahib to avenge his wife, who supposedly died in the Cawnpore massacre. Servants accompanying them include Sergaent McNeil, Munro's faithful servant; Fox, the faithful servant of Captain Hood and fellow hunter, who has killed 37 tigers; Monsieur Parazard; a Negro cook of French origins; Storr, a British Engine driver; Kilouth, an Adivasi coal shoveler and Gotimi, the faithful Gurkha servant of Colonel Munro.

Banks, the Engineer, introduces the machine he invented, a Steam powered mechanical elephant, which pulls two comfortable carriages having all the comforts of a 19th-century house. The machine can walk across land and float across rivers using embedded paddle wheels. The steam elephant is named Behemoth and together with two carriages, it is called the Steam House. The first carriage is used by the gentlemen, while the other is reserved for the servants. They start from Calcutta, and travel around the French town of Chandannagar, and Burdawan, Patna and Chitra, reach Gaya, where they visit various Hindu and Buddhist temples and bathing Ghat.
On the way to Banaras they are interrupted by Hindu fanatics who consider the Steam House to be the chariot of their deity. Banks frightens them away by directing steam exhaust at them. In Banaras, Banks and Maucler notice a man spying on them but resolve not to tell the Colonel. From Banaras, they travel to Allahabad, where they learn that Nana Sahib has been declared dead after a skirmish in the defiles of Satpura. Colonel Munro is shocked by this news, as he wanted to take revenge himself. After Munro's request, they decides to pass through Kanpur, where an emotional Colonel visits his old house and the well which is supposedly the grave of Mrs. Munro and other victims of the massacre.
The group decides to journey towards a northern forest, and pass the Monsoon season there, hunting wild animals. On the way to Terai, they defeat three elephants of an arrogant Gujarati Prince in a competition with Behemoth. Near Terai, they are caught in a violent thunderstorm and Gautami narrowly survives after being struck by lightning. The man who was spying on the Steam House meets Nana in Bhopal and informs him of further plans of the inhabitants of the Steam House.
Nana orders his faithful follower Kalagni to infiltrate the Steam House and lure them near Nana Sahib's hiding place. While returning to their hiding place, near the Pal of Tandil, they are ambushed by British forces, who were directed unwittingly by the madwoman Rowing Flame. A body matching the description of Nana Sahib is found and he is declared dead by the British authorities.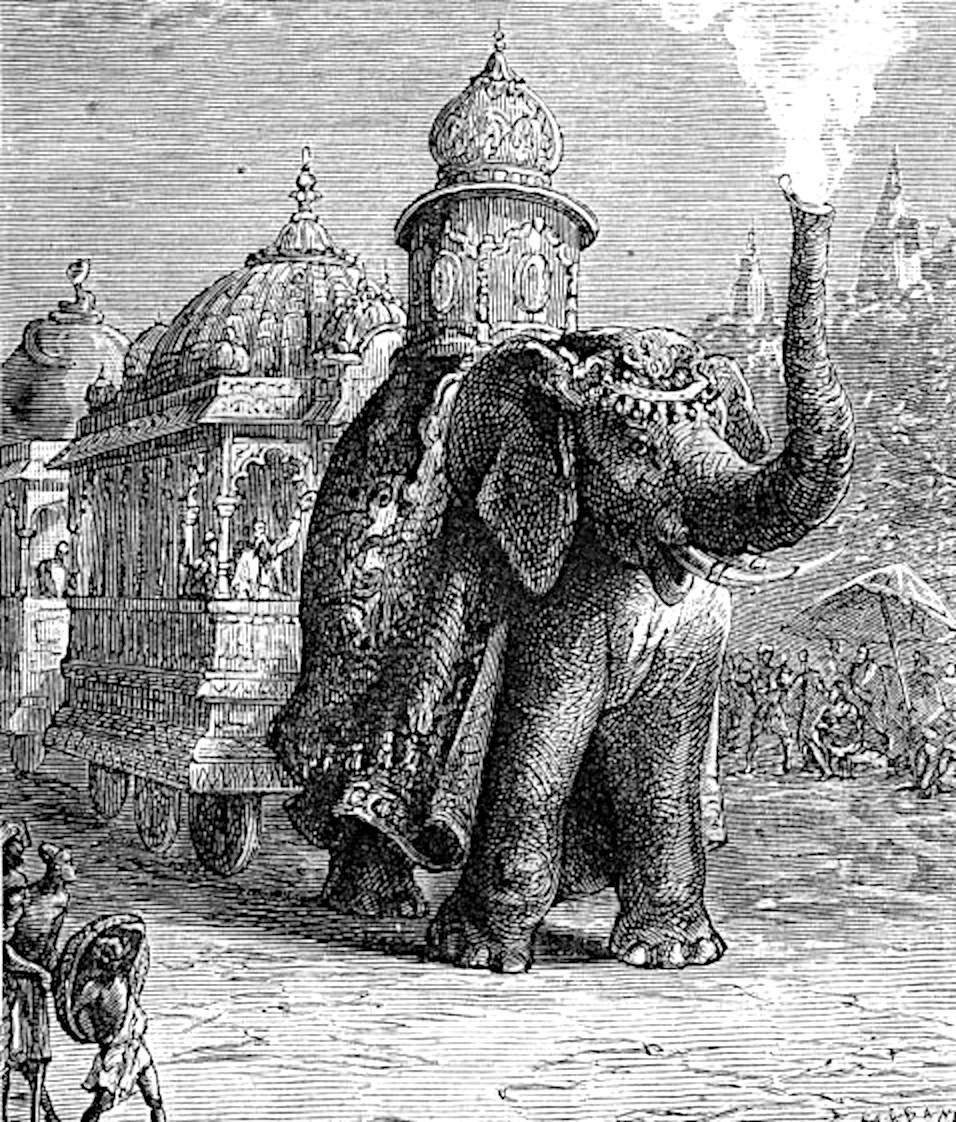 A house on locomotive wheels, is pulled by a mechanical steam powered elephant
Jules Verne was the author of many adventure stories:
1 Twenty Thousand Leagues Under the Sea - Full text Part 1, Part 2
2 Around the World in Eighty Days - Full text Index
3 Journey to the Center of the Earth - Full text Index
4 The Mysterious Island (Extraordinary Voyages #12) Full text Part 1, Part 2, Part 3
5 From the Earth to the Moon
6 Michael Strogoff (Extraordinary Voyages, #14)
7 In Search of the Castaways; or the Children of Captain Grant (Extraordinary Voyages, #5)
8 Five Weeks in a Balloon
9 Round the Moon (Extraordinary Voyages, #7)
10 Adrift in the Pacific: Two Years Holiday (Extraordinary Voyages, #32)
11 The Master of the World (Extraordinary Voyages, #53)
12 The Adventures of Captain Hatteras
13 Les Tribulations d'un Chinois en Chine; The Tribulations of a Chinese in China (Extraordinary Voyages, #19)
14 The Lighthouse at the End of the World
15 Mathias Sandorf (Extraordinary Voyages, #27)
16 Off On A Comet (Extraordinary Voyages, #15)
17 Los quinientos millones de la Begún (The five hundred million of the Begún)
18 Facing the Flag (Extraordinary Voyages, #42)
19 Un capitán de quince años (A fifteen year old captain)
20 El Testamento de un excentrico (The Testament of an eccentric)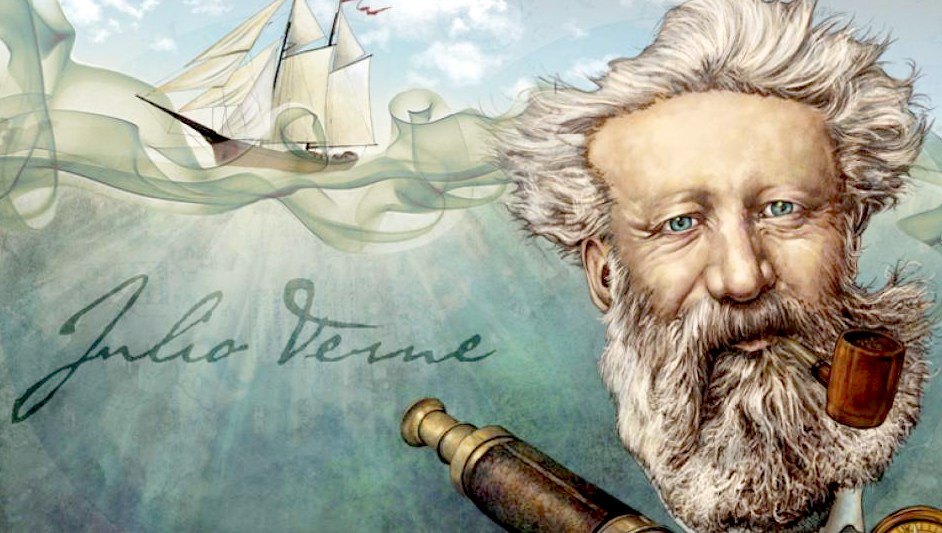 Jules Verne is also known as the Father of Science Fiction