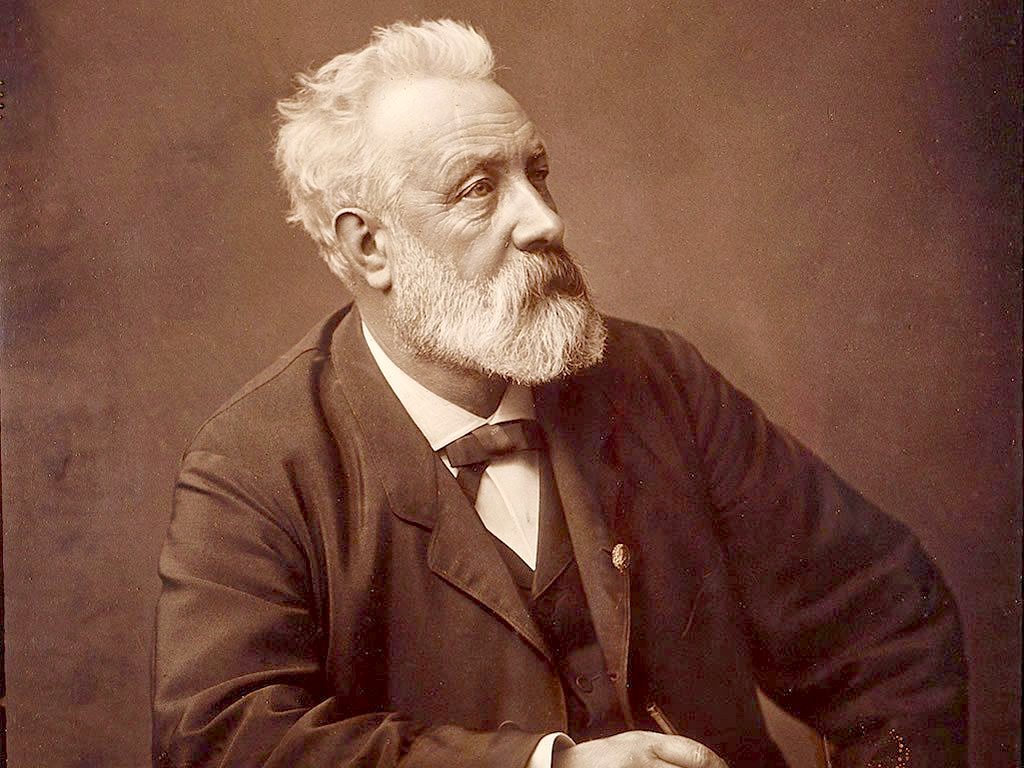 What a wonderful imagination the French writer had. He was also a practical mariner, gaining much of his material from his travels, just like Herman Melville, for his Moby Dick. Jules Verne is best known for '20,000 Leagues Under the Sea' and Around The World In Eighty Days. But he also authored a number of other popular novels, that made it onto the big screen, such as 'The Mysterious Island,' and 'Journey To The Centre Of The World.'
PROPHETIC SCIENCE FACTION
The relationship between Verne's Voyages extraordinaires and the literary genre science fiction is a complex one. Verne, like H. G. Wells, is frequently cited as one of the founders of the genre, and his profound influence on its development is indisputable; however, many earlier writers, such as Lucian of Samosata, Voltaire, and Mary Shelley, have also been cited as creators of science fiction, an unavoidable ambiguity arising from the vague definition and history of the genre.

A primary issue at the heart of the dispute is the question of whether Verne's works count as science fiction to begin with. Maurice Renard claimed that Verne "never wrote a single sentence of scientific-marvelous". Verne himself argued repeatedly in interviews that his novels were not meant to be read as scientific, saying "I have invented nothing". His own goal was rather to "depict the earth [and] at the same time to realize a very high ideal of beauty of style", as he pointed out in an example:

I wrote Five Weeks in a Balloon, not as a story about ballooning, but as a story about Africa. I always was greatly interested in geography, history and travel, and I wanted to give a romantic description of Africa. Now, there was no means of taking my travellers through Africa otherwise than in a balloon, and that is why a balloon is introduced.… I may say that at the time I wrote the novel, as now, I had no faith in the possibility of ever steering balloons…

Closely related to Verne's science-fiction reputation is the often-repeated claim that he is a "prophet" of scientific progress, and that many of his novels involve elements of technology that were fantastic for his day but later became commonplace. These claims have a long history, especially in America, but the modern scholarly consensus is that such claims of prophecy are heavily exaggerated. In a 1961 article critical of Twenty Thousand Leagues Under the Seas' scientific accuracy, Theodore L. Thomas speculated that Verne's storytelling skill and readers misremembering a book they read as children caused people to "remember things from it that are not there. The impression that the novel contains valid scientific prediction seems to grow as the years roll by".
As with science fiction, Verne himself flatly denied that he was a futuristic prophet, saying that any connection between scientific developments and his work was "mere coincidence" and attributing his indisputable scientific accuracy to his extensive research: "even before I began writing stories, I always took numerous notes out of every book, newspaper, magazine, or scientific report that I came across."
Our view is that if a writer has a firm grasp of technology, then with an innovative mind and a bit of research, he or she is bound to come up with inventions that are to come, but that as with the advances of mankind, they are slow in the coming. The only time technology advances at a pace, is during war, to gain advantage against an enemy, or other crisis, when adaptation is necessary to survive.
THE FATHER OF SCIENCE FICTION
Jules Verne hit his stride as a writer after meeting publisher Pierre-Jules Hetzel, who nurtured many of the works that would comprise the author's Voyages Extraordinaires.

In all, Verne authored more than 60 books (most notably the 54 novels comprising the Voyages Extraordinaires), as well as dozens of plays, short stories and librettos. He conjured hundreds of memorable characters and imagined countless innovations years before their time, including the submarine, space travel, terrestrial flight and deep-sea exploration.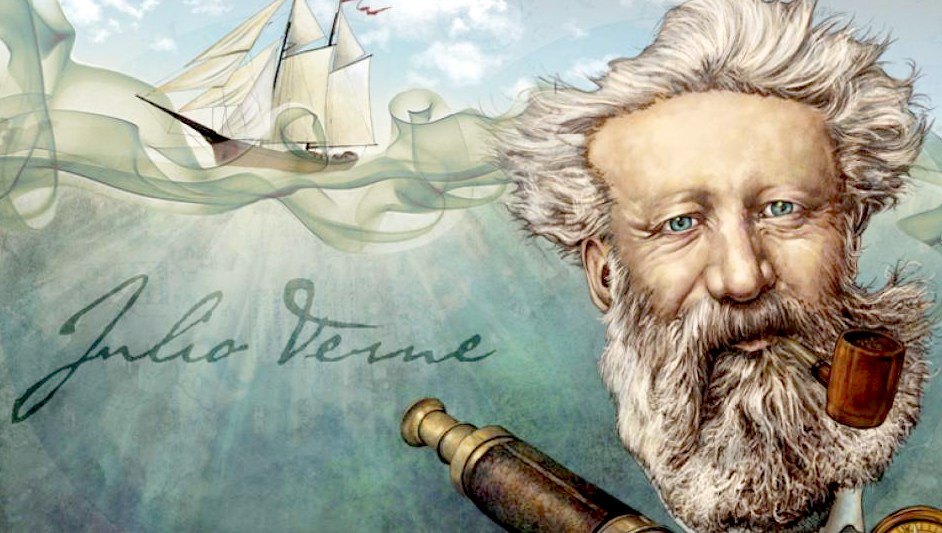 CLASSIC WORKS - Jules Verne is best known for 20,000 leagues Under the Sea and Around the World in Eighty Days, both of which became Hollywood classics. Jules Verne was and still remains one of the best-renowned science fiction authors. His books were decades and even centuries ahead of their time, and while the initial reception to some of his books may have been muted they have nevertheless continued to amaze many as well as influence scientific discourse and debates. He remains unparalleled when it comes to science fiction and here are some of his top books.
Jules Verne was the author of many adventure stories:
1 Twenty Thousand Leagues Under the Sea
2 Around the World in Eighty Days
3 Journey to the Center of the Earth
4 The Mysterious Island (Extraordinary Voyages #12)
5 From the Earth to the Moon
6 Michael Strogoff (Extraordinary Voyages, #14)
7 In Search of the Castaways; or the Children of Captain Grant (Extraordinary Voyages, #5)
8 Five Weeks in a Balloon
9 Round the Moon (Extraordinary Voyages, #7)
10 Adrift in the Pacific: Two Years Holiday (Extraordinary Voyages, #32)
11 The Master of the World (Extraordinary Voyages, #53)
12 The Adventures of Captain Hatteras
13 Les Tribulations d'un Chinois en Chine; The Tribulations of a Chinese in China (Extraordinary Voyages, #19)
14 The Lighthouse at the End of the World
15 Mathias Sandorf (Extraordinary Voyages, #27)
16 Off On A Comet (Extraordinary Voyages, #15)
17 Los quinientos millones de la Begún (The five hundred million of the Begún)
18 Facing the Flag (Extraordinary Voyages, #42)
19 Un capitán de quince años (A fifteen year old captain)
20 El Testamento de un excentrico (The Testament of an eccentric)
Many people have used the eighty day target set by Jules Verne as the goalposts for their technology projects having been inspired by the famous French author. We are likewise enthused.