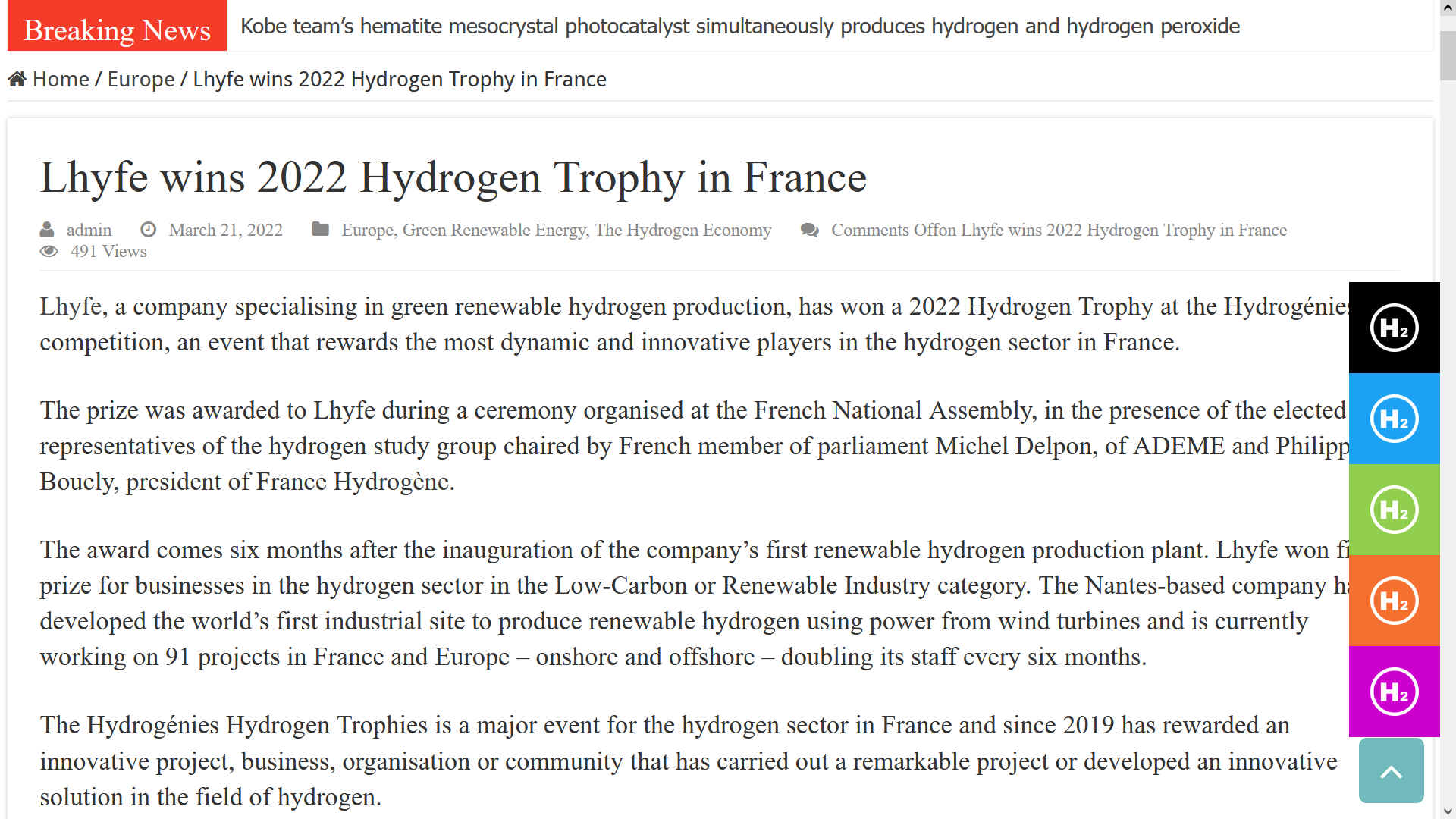 Lhyfe, a company specialising in green renewable hydrogen production, has won a 2022 Hydrogen Trophy at the Hydrogénies competition, an event that rewards the most dynamic and innovative players in the hydrogen sector in France.

The prize was awarded to Lhyfe during a ceremony organised at the French National Assembly, in the presence of the elected representatives of the hydrogen study group chaired by French member of parliament Michel Delpon, of ADEME and Philippe Boucly, president of France Hydrogène.

The award comes six months after the inauguration of the company's first renewable hydrogen production plant. Lhyfe won first prize for businesses in the hydrogen sector in the Low-Carbon or Renewable Industry category. The Nantes-based company has developed the world's first industrial site to produce renewable hydrogen using power from wind turbines and is currently working on 91 projects in France and Europe – onshore and offshore – doubling its staff every six months.

The Hydrogénies Hydrogen Trophies is a major event for the hydrogen sector in France and since 2019 has rewarded an innovative project, business, organisation or community that has carried out a remarkable project or developed an innovative solution in the field of hydrogen.

"We are very proud to see our commitment and expertise rewarded by the hydrogen community" said Matthieu Guesné, CEO and founder of Lhyfe. "This distinction comes in a context that requires a rapid energy response that can deliver on economic and environmental challenges. We are convinced that ecological hydrogen – which we now produce on an industrial scale and at a competitive price – is part of this response, and we are already standing with communities and industry to meet these challenges together."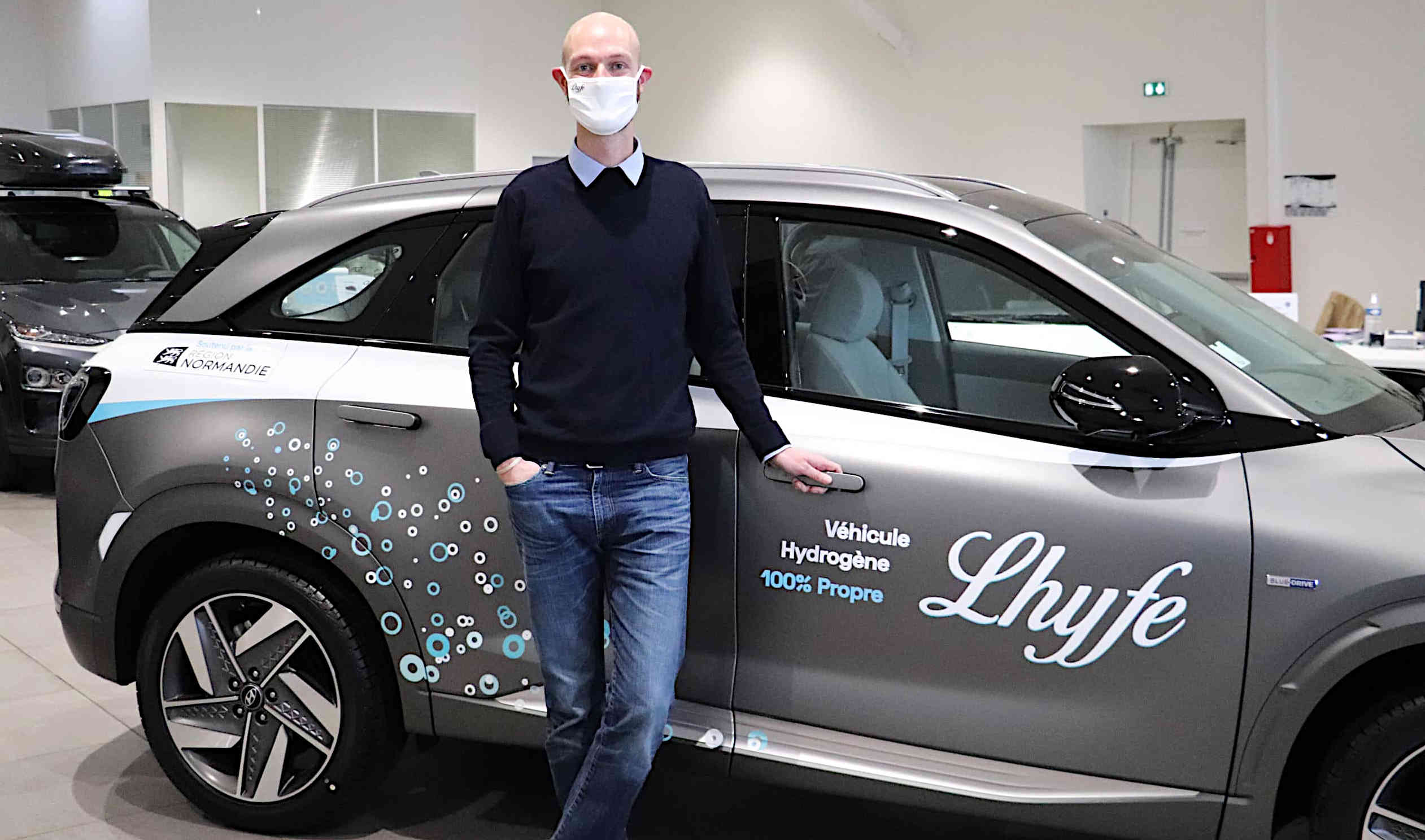 The Hyundai NEXO SUV chosen by Lhyfe as its first company fleet vehicle will be the very first car to run on clean green hydrogen. Europe's first green hydrogen producer was won over by the car's autonomy – Bertrand Piccard's record last year of 778 kilometres on a single tank was with a NEXO. Moreover, the IIHS (Insurance Institute for Highway Safety) put the NEXO in the Top Pick+ category, which is the highest security ranking awarded by this body financed by large American insurance companies. Its performance is on a par with internal combustion engine cars and it has some of the most advanced technology on the market. Furthermore, the NEXO is a hydrogen fuel cell electric vehicle. This means that it doesn't store electricity in a battery; it is the battery that generates electricity in real time from the hydrogen contained in its tanks. And these tanks only take three to five minutes to fill. By spring, Lhyfe's site in Bouin (Vendée) will supply at last 300 kilos per day of green hydrogen to various stations in Pays de la Loire (in La Roche-sur-Yon, Les Sables, Le Mans, etc.). Plans for other facilities are also well under way, for example in Brittany, Normandy and the Centre region of France, as well as in other regions of France and within Europe.

For the purchase of this vehicle, Lhyfe called on the DMD dealership in Saint-Herblain outside of Nantes, which is historically one of the first dealerships in the west of France to offer hydrogen cars


"We are very happy to have sold the first NEXO in western France to a major player in this energy transition. The fact that Lhyfe will soon also be supplying clean, green hydrogen locally will be crucial, as will the installation of new refuelling stations, as regards our capacity to sell hydrogen cars in the coming months in western France. We are ready to widely promote this new green mobility in the area."

Gilles Guillossou, Managing Director, DMD


Hyundai, the first car manufacturer to mass-produce hydrogen vehicles, has been preparing the zero-emission vehicles of tomorrow since 1998. With 4,987 units already sold, the car manufacturer was already the largest seller of fuel-cell electric vehicles (FCEV) worldwide in 2019. Hyundai plans to produce 700,000 hydrogen cell systems a year by 2030. NEXO is its second generation mass-produced hydrogen car.


"At Hyundai, we deeply want to develop carbon-free mobility. We are delighted that an operator like Lhyfe is engaged from today in the production of clean, green hydrogen on a large scale to make this fuel even greener."

Lionel French Keogh, Managing Director, Hyundai Motor France


The price of hydrogen cars is admittedly still high (around 65,000 euros), but there are attractive regional schemes that support businesses and private individuals in purchasing them. Moreover, production volumes for hydrogen technology are growing exponentially and a significant drop in price is already being seen; the aim of hydrogen car producers being to compete with petrol or diesel cars. To conclude, Matthieu Guesné said: "The French government and regions have a key role to play in developing hydrogen by further intensifying their support:

- to businesses for the acquisition of vehicles, in order to create volume, lower prices, and, ultimately, make them accessible to the public;

- to enable a substantial deployment of hydrogen stations without which the market can't develop, following the example of our German neighbours who are currently deploying 400 stations in their country."
WHAT IS RENEWABLE HYDROGEN?
For hydrogen to be a real alternative to fossil fuels, it needs to be genuine "renewable hydrogen". This differs from fossil hydrogen in that it is produced using the electrolysis of water and a supply of renewable electricity. For this energy to have an environmental benefit, there are two key principles:

1. a production method that uses no fossil fuels – this is the case when hydrogen is made using the electrolysis of water,

2. the use of the right kind of electricity to power the production process. However, obtaining truly green, renewable electricity isn't actually that easy. Here we look in more detail at how the green electricity market works, to understand if the energy you are buying is renewable.

ELECTRICITY MARKET MECHANISMS EXPLAINED

The European electricity market has been open to competition since 2007. Electricity is traded:

- on the European electricity exchange (for France this is the Epex Spot market, for example), where prices vary according to supply and demand;
- there are different markets for purchasing electricity on an hourly basis or via forward contracts covering the supply of electricity for days, weeks, months or years to come;
- on an over-the-counter (OTC) basis via an aggregator/supplier which, as its name suggests, supplies buyers by aggregating electricity from different sources, and,
- directly over-the-counter with no intermediary, i.e. the trade is based on a bilateral contract between buyer and producer, as per the terms of a mutual agreement.
This Power Purchase Agreement or PPA provides the parties with assurance over stability, long-term visibility and transparency.

HOW CAN YOU BUY RENEWABLE ELECTRICITY?

When a producer produces renewable electricity, they issue a Guarantee of Origin, which is certified by a state-appointed body. This guarantee certifies that a certain volume of green electricity has been injected into the grid. Today the following energy sources are deemed renewable and therefore qualify for Guarantees of Origin:

Electricity produced using solar, wind and geothermal energy, hydroelectric power, biomass energy, and wave and tidal energy; Natural gas produced via methanation.

The renewable electricity producer can request the issue of a 'Guarantee of Origin' up to five months after the production of the corresponding energy and this is valid for a year in Europe and a month on the French market.
To purchase renewable electricity, all you have to do, therefore, is buy a Guarantee of Origin on the European market (Power Next for France).

Sadly, as is implied, buying renewable electricity therefore doesn't mean you are actually using renewable electricity. Transparency is not assured.

According to the Association of Issuing bodies (AIB), the body set up by the EU to promote the system, the biggest issuer of Guarantees of Origin is Norway. The Scandinavian country issues over a quarter of the Guarantees of Origin on the European market, due to its massive hydropower resources.

Despite the interconnection between power grids, it is easy to see that there is little chance of a green electron produced in Norway actually being used to supply a customer in France. To give another example, Iceland is also a huge issuer of Guarantees of Origin, and yet there is no physical interconnection between its power grid and that of the EU.
It is therefore entirely possible to be supplied by a polluting local power station which injects its dirty electricity into the grid and then buys a Guarantee of Origin on the European market to "greenwash" their purchases.
At Lhyfe, their ecological hydrogen production offers an alternative method, that is directly connected.

To overcome the disconnection between the certificates market and actual production, Lhyfe have sought alternative solutions, such as connecting their hydrogen production facility directly to a renewable electricity source. Fabulous!

This, they believe, is the best way to be sure where the electricity is coming from. By installing their electrolyser's at the foot of a wind farm, they can be sure that they are using the green electrons produced by the wind turbines to produce Lhyfe hydrogen. This process also works with other renewable energy sources, such as solar panels.
For wind farms, hydrogen is an additional storage solution to injecting electricity into the grid by way of storage and load-levelling - as an additional commercial advantage. Where transition to a sustainable society is concerned. Something missing, by way of the necessary infrastructure for a truly Circular Economy.

By going a step further than simply connecting to the grid and purchasing Guarantees of Origin, Lhyfe can say that the hydrogen they produce is not only renewable but truly and intrinsically ecological.

DEVELOPING A LOCAL AND RENEWABLE VALUE CHAIN

This industrial process also fosters local expertise and economic activities connected with this up-and-coming sector. Lhyfe's first production site in Vendée is an excellent example of the creation of such an ecosystem:
The renewable energy producer is Vendée Energie whose wind farm is located a few metres from their site.

Lhyfe's ambition is to develop their business Europe-wide, to serve major industries. Today, many industrial parks in Europe do not have a renewable electricity source nearby and some industrial activities require the mass production of hydrogen at their own site.

To overcome these hurdles Lhyfe have come up with the solution of trading directly with the closest renewable electricity producers to their production site and working with them to time-synchronize their production and associated electricity use.

Lhyfe's commitment to the green energy transition is a completed stand alone system, which is why they want to provide coherent and truly ecological alternatives. Not greenwashed marketing, that is confusing to the end user.
Lhyfe, is registered at the RCS Nantes under number 850 415 290 – 30 rue Jean Jaurès 44000 Nantes. Publication manager: Nolwenn Belleguic: contact@lhyfe.com
The chart below shows us how hydrogen is graded, from Yellow hydrogen (solar) to Black hydrogen, via coal gasification. So called Pink hydrogen is not low carbon as many are saying, because of the long term cost of decommissioning and radioactive waste that never goes away, and frequently leaks into the environment.
| | | |
| --- | --- | --- |
| HYDROGEN COLOUR | METHOD | ENVIRONMENTAL RATING |
| - | - | - |
| | NATURALLY OCCURRING | NEUTRAL |
| | SOLAR POWERED ELECTROLYSIS | CLEANEST |
| | RENEWABLE ELECTROLYSIS | CLEAN |
| | METHANE PYROLYSIS | UNDER EVALUATION |
| | STEAM REFORMATION | USING CARBON CAPTURE & STORAGE |
| | NUCLEAR POWERED | LONG TERM POLLUTION ISSUES |
| | STEAM REFORMATION | DIRTY |
| | COAL GASIFICATION | SERIOUSLY DAMAGING |
| | COAL GASIFICATION | SERIOUSLY DAMAGING |

https://www.lhyfe.com/
https://www.renewableenergymagazine.com/journalist/robin-whitlock
https://h2worldnews.com/lhyfe-wins-2022-hydrogen-trophy-in-france/