Though not a practical road registered car, the record set by the PAC Car II, ETH Zurich on the 26th of June 2005 remains an astounding achievement in the EV and hydrogen record books, that helps production engineers, look to a theoretical baseline, of what might be achieved if there are no limits:
- 14,573 mpg imperial
- 12,134 mpg US gasoline equivalent
- 0.0186 L/100 km
The event was recorded by the Guiness Book of World Records, an organization that ensures record attempts are properly measured, timed, and otherwise validated for accuracy, before inclusion.
If this vehicle had been registered for the road in Switzerland, it would have taken the JVH2 in the vehicles, 'custom' category. But of course the JVH2 did not exist at that time.
This record was broken in 2018, by Duke University Electric, at Benson, North Carolina, USA:
- 15,200 mpg imperial
- 12,600 mpg US gasoline equivalence
- 0.01614 liters per 100 kilometres
We have high hopes that with encouragement and support, electric motoring may be more economical than Internal Combustion Engines (ICE), except perhaps those running on renewables like Methanol, or Ammonia.
360 CAR MUSEUM - 2005 PAC CAR II

Country - Swiss
Number of seats - 1
Weight - 29 kg
Speed - 32 km h
Engine type - Electric motor (fuel cells), Direct current electric motor
Power - 0.9kW (1.2 hp)

Pac-Car II was the world's most fuel-economic vehicle in 2005. It was developed as a student project at ETH Zürich (Swiss Federal Institute of Technology). Based on a group of students and an experienced teamleader, the goal was to build a vehicle that uses as little fuel as possible. By using hydrogen fuel-cell, developed at ETH/PSI (Paul Scherrer Institute), as power source, pure water is the car's only emission. Clean mobility completed therefore the educational and energy saving aspects of the project.

- Excellent aerodynamics (drag coefficient of Cd=0.075, Af=0.254 m²)
- an extremely lightweight construction of the body (total mass of 29 kg, carbon fibre materials)
- low rolling resistance of Michelin's Radial Tyres (Cr=0.0008)
- highly efficient powertrain (almost 50%)
- use of simulation and optimization tools (CFD, FEM, MATLAB and Simulink, GESOP)

In 2005 on June 26, PAC-Car II set a new world record in fuel-economy of 5385 km/l gasoline equivalence during the Shell Eco-Marathon in Ladoux, France. During its third race over 20.6 km the car consumed approximately 1 g of Hydrogen driving at an average speed of 30 km/h (roughly 18.6 mph).
This corresponds to 0.0186 L/100 km (15,200 mpg-imp; 12,600 mpg-US) gasoline equivalence. This world record is certified by the Guinness Book of World Records.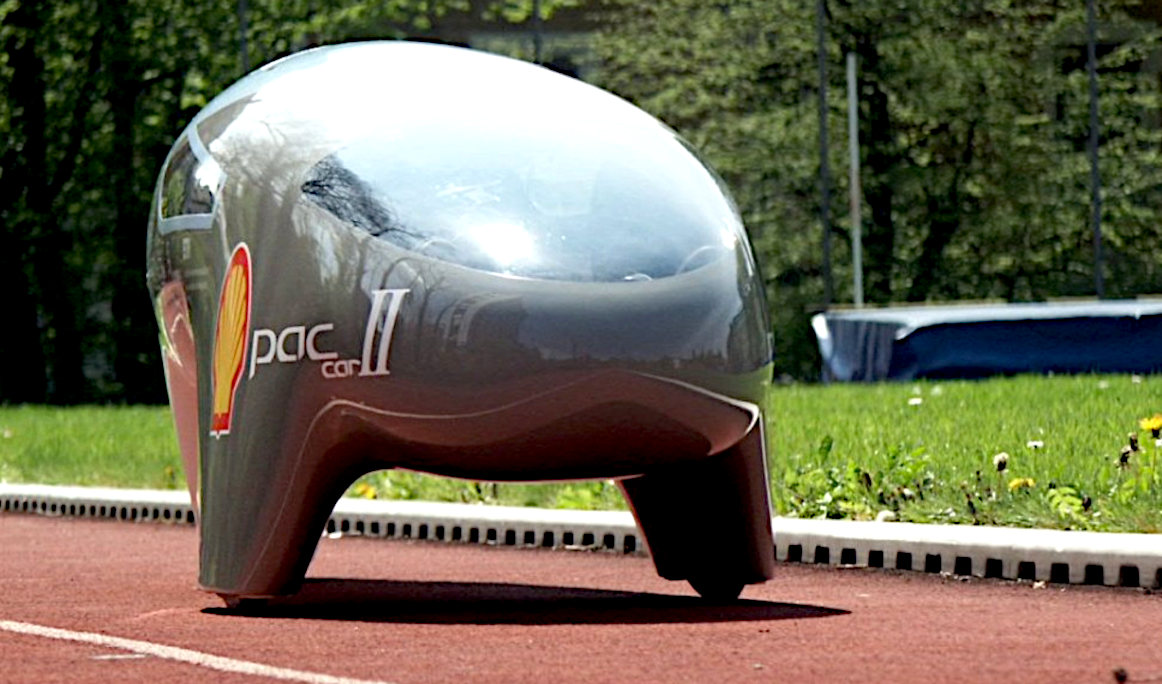 HYDROGEN CARS NOW - ETH ZURICH PAC-CAR II - On June 26, 2005, the ETH Zurich PAC-Car II broke the Guinness Book of World Records by gliding into a new one, setting a fuel economy record of 15,212 mpg. The ETH Zurich PAC-Car II set this astounding feat at the Shell Eco-Marathon in Ladoux, France. The PAC-Car II was created by the Swiss Federal Institute of Technology of Zurich including a team of 20 students from the Department of Mechanical and Process Engineering.

The goal of the project was to create a vehicle that used as little fuel as possible. The PAC-Car II used a hydrogen fuel cell to drive two Faulhaber 12 Volt DC miniature electric motors around the Michelin test track in Ladoux and of course, riding on Michelin radial tires. The PAC-Car II also used power amplifiers and a metal-hydride hydrogen tank to help accomplish the feat.

Researchers and students at ETH Zurich created and refined the PAC-Car 2 using mathematical modeling and computer simulations.

The PAC-Car 2 chassis was designed and built at the University of Valenciennes and comes in at a very light 66 lbs, total weight. Both of the female drivers who set the record sat in the prone position and used a joystick to steer the vehicle.

The ETH Zurich PAC-Car II broke its own record from the previous year when it glided in to a cool 9,024 mpg record around the same track. Besides the Guinness record, the PAC-Car II won the international Energy Globe 2005 award for its contribution to energy conservation. The ETH Zurich PAC-Car II has now been retired from action and a book is due out outlining how the car was built and its different sub-systems.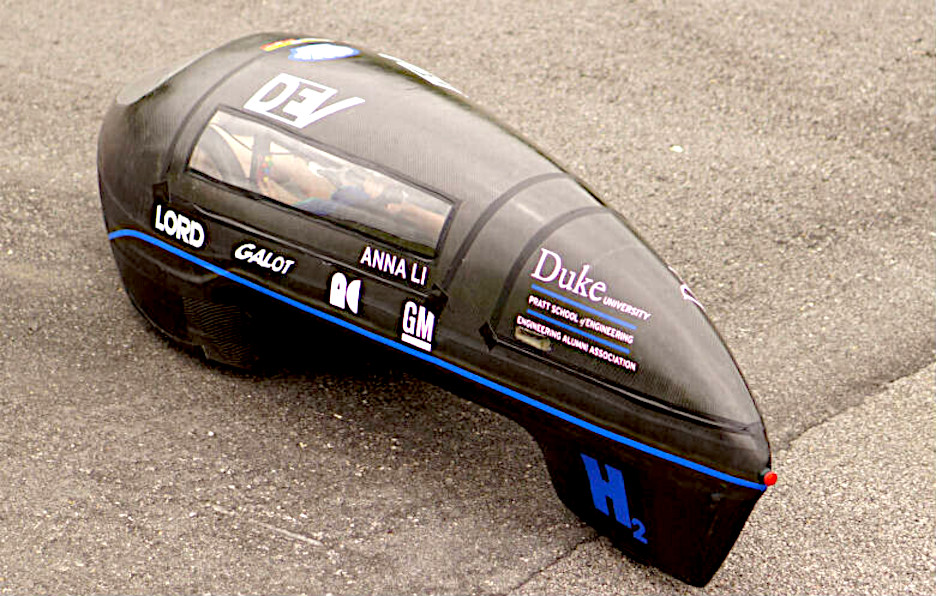 In 2005, Swiss researchers developed the world's most economical, car that could circle the globe on only eight litres of fuel. The Pac-Car uses hydrogen fuel cell technology and was developed by a team at the Swiss Federal Technical University headed by Professor Lino Guzzella. Their record stood for 13 years, until Duke University had a crack at the hydrogen whip.
Guinness have helped to provide recognition for record breakers in thousands of categories. Providing a fascinating book for youngsters.
LINKS
https://www.hydrogencarsnow.com/index.php/eth-zurich-pac-car-ii/
https://360carmuseum.com/en/museum/23/exhibit/1241
https://www.swiss-miss.com/2005/08/worlds_most_eco.html
https://www.guinnessworldrecords.com/world-records/most-fuel-efficient-vehicle