We thought it would be a bit of fun for our students, for them to see how a small logo on a business card, or as a digital image, could be reproduced to make a fairly sizeable sign for our gates.
The same technique can be used to create sculptures of any size in different materials, such as the Statue of Liberty.
Humpback whales are great fun to draw and sculpt.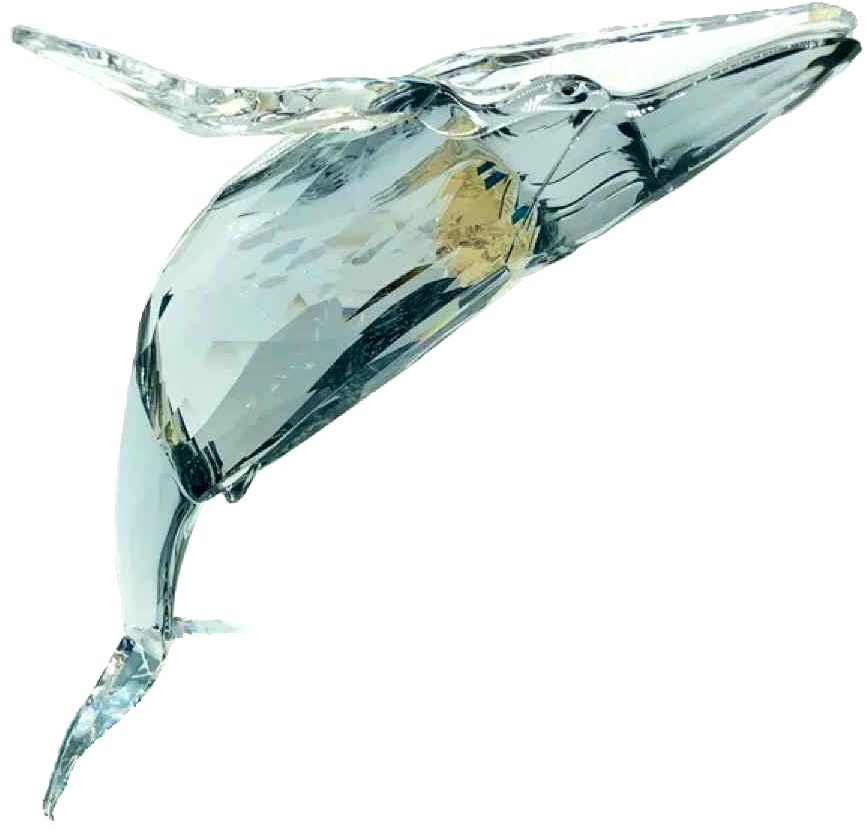 ARTWORK: A nice crystal humpback whale performing a backwards summersault, known as a broach.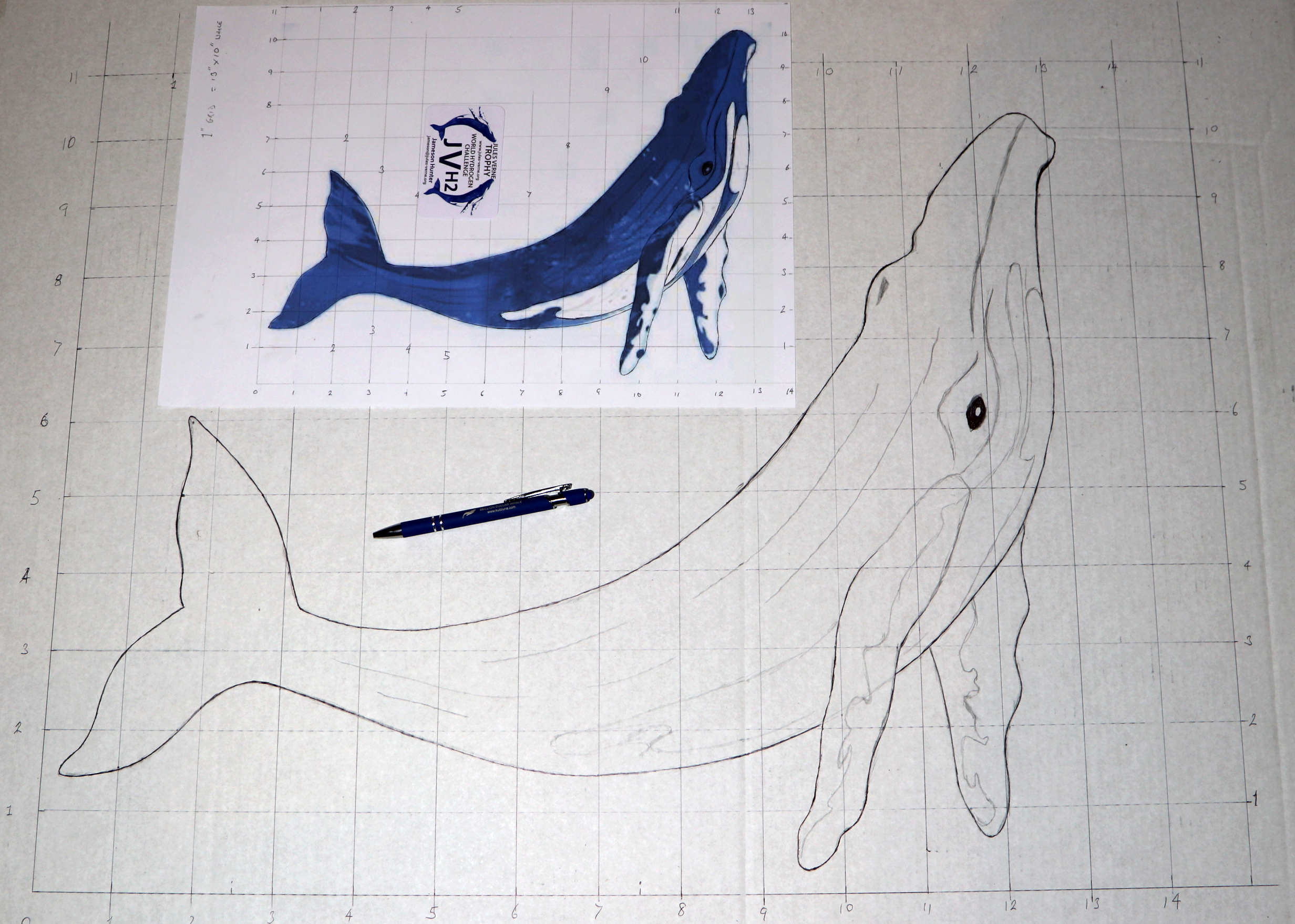 ENLARGING: In time honored tradition a grid was created on top of the printout, then transferred to larger piece of cardboard to be drawn in by hand. The humpback's pose in mid-broach then needs to be translated to to metal medium, with the measurements taken from the enlarged artwork. The digital approach is okay for vinyl wraps and plastic printing, but not so useful if the object to be made is by a craftsman. Converting architectural drawings to full size templates, is called lofting.

WOOD TREATMENT: Having cut two identical humpback whales from recycled marine plywood, the two pieces needed to be treated to prevent dry and wet rot, and attack from boring insects. Make sure you flood the preserving chemicals into the grain.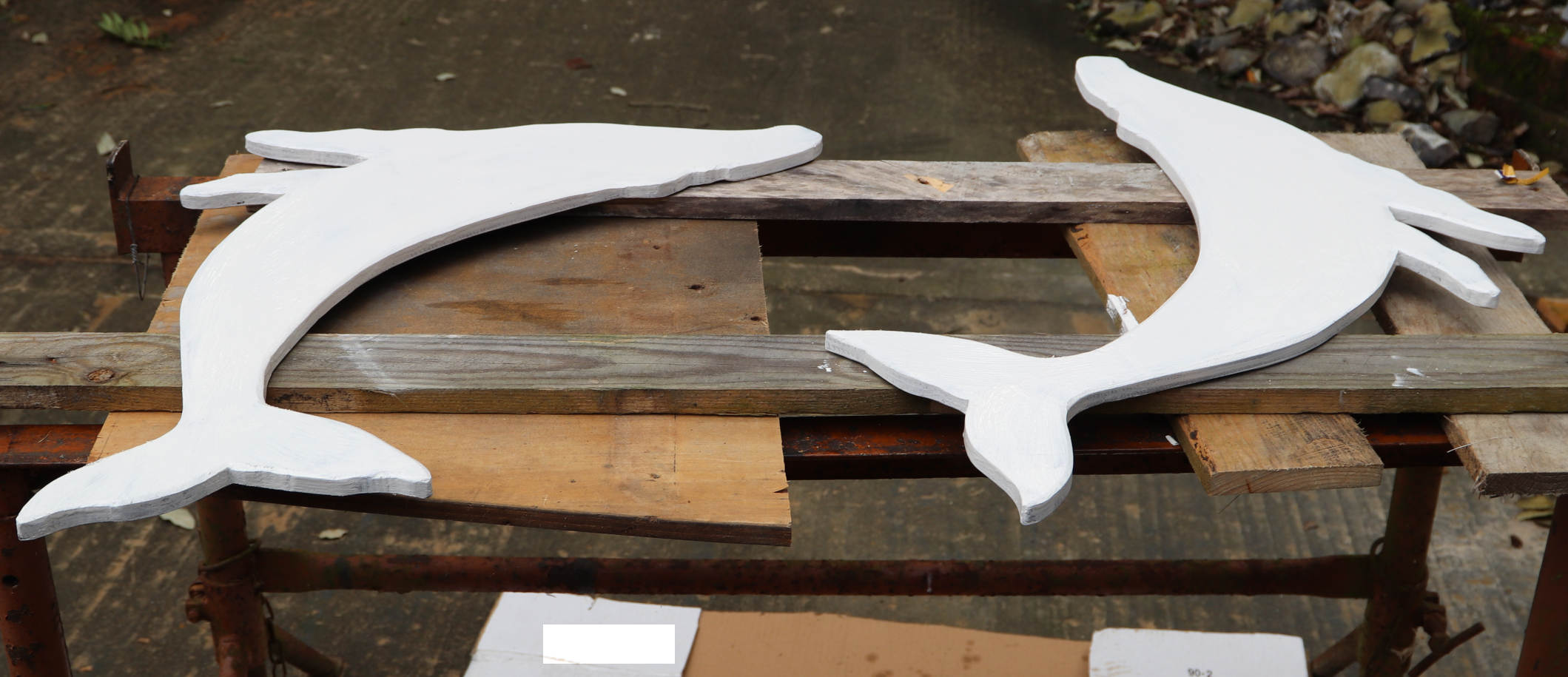 PRIMER SEALER - Several days later, to allow good time for the wood treatment to dry. The humpback whale blanks needed to be primed and sealed. Once again, flood the paint into the grain. You may need to apply two or more coats. And each side should be allowed to dry, before turning over to do the other side.
ACRYLIC PAINTS - For the blue detailing, we used a quality acrylic paint, available from most good art stores. The water based paint is tough, not needing to be over coated for external use. Though, a clear lacquer may eventually be on the cards.
There are many amazing cups and trophies in silver, crystal and even gold. One of the most inspiring in our view is the Hales Trophy or North Atlantic Blue Riband Challenge. Though, for our purposes, it is rather too intricately classical as a sustainability award, a tad large for in person handing over and receiving ceremonies, and exceptionally heavy for transportation. Not to mention the cost. Irrespective of such observations, it has many interesting elements to be admired, not least of which is the craftsmanship. One of the most expensive awards to compete for is the America's Cup, made of silver.