SCENE OF THE WAGER - Not fiction, but a real institution, for the privileged clases. No wonder then that Jules Verne used the landmark in his story, to illustrate and enhance his fictional character.


Phileas Fogg is a fictional character who frequents the Reform Club in London, an institution that many readers may think is also fictional, as befits the narrative and intricate interweave of Jules Verne's classic: Around the world in eighty days.
The Reform Club is a private members' club on the south side of Pall Mall in central London, England. As with all of London's original gentlemen's clubs, it comprised an all-male membership for decades, but it was one of the first all-male clubs to change its rules to include the admission of women on equal terms in 1981. Since its founding in 1836, the Reform Club has been the traditional home for those committed to progressive political ideas, with its membership initially consisting of Radicals and Whigs. However, it is no longer associated with any particular political party, and it now serves a purely social function. Members are not concerned with tackling corruption in politics, global warming, poverty or sustainability goals, other than in passing, the rules of joining being almost secret society, thus more regressive perhaps, and certainly prejudicial as to wealth and status. More the opposite of the Representation of the People Acts, or Reform Acts, that the name suggests, reminiscent of Masonic selectivity perhaps, assuredly lacking in transparency, since members are not listed.
They claim: "Membership of the Reform Club is open to all on an equal basis. If you are interested in finding out more, we will be delighted to hear from you. Membership applications are considered monthly by the Club's Membership Committee." Whenever a committee decide memberships, it is certainly not a case of equality. It is a case of selectivity. We understand that a current member has to propose or second acceptance. Hence, the Club is not open to all. It is rather, elitist, and much like secret societies, would probably fall at the first hurdle against human rights compliance, such as Article 14 - if tested.
HANSARD → LORDS SITTING - DISCRIMINATION - HL Deb 25 April 2001 vol 625 cc286-312

9.23 p.m.

LORD FAULKNER OF WORCESTER

My Lords, I, too, thank the noble Lord, Lord Lester of Herne Hill, for introducing this debate, which has attracted an extraordinary degree of interest and knowledge from Members of your Lordships' House. In the same way as the noble Baroness, Lady Walmsley, I intend to deal with the issue of sex discrimination and to express my support for the Private Member's Bill introduced in another place during the last Session of Parliament by Robert Walter MP which was designed to prevent private clubs from admitting women on different terms from men.

Three kinds of club would have been covered. The first group is sports clubs, in particular golf clubs, which allow women restricted membership or allow them to play only at particular times. Many allow women only associate membership and deny them full voting rights and the use of the club rooms at evenings [305] and weekends. One example I found in the press cuttings is that of the Gay Hill Golf Club, at Wythall near Birmingham, which was described as, "the most backward golf club in England"," by Bridget Malin, one of two women members who gave an interview to the Observer newspaper.

Included in a catalogue of discriminatory practices, all of them perfectly legal, were the rules which applied to the so-called "public room" — the one to which women were admitted. While that was being refurbished, a white line was painted on to the floor to stop women from going more than half-way into the bar.

The second kind of club where change is needed is working men's clubs which allow women to use some facilities but not others. Take the Sunnybank Social Club in Silsden, near Skipton. According to the Independent on Sunday: "The club's problems began when a group of young women were caught playing snooker and told that they had no business there. When two men came to their aid, arguing that women should have full status, they were charged with 'bringing the club into disrepute'"." The report states that out of 3,000 clubs affiliated to the Working Men's Club and Institute Union, some 60 per cent deny women full rights.

The third group is the so-called gentlemen's clubs which allow women only restricted membership or keep them out of certain bars or dining rooms. Here I should declare an interest as a member of the Reform Club, which changed its rules to admit women on equal terms with men 20 years ago in 1981. Not so, however, the Carlton Club, where there have been three attempts in the past two years to change the rules to allow women to be full members. Before the last vote in November, Mr William Hague said that he would resign if the change were not made. It was not—and he has not.

In The Times yesterday, Theresa May, MP, was quoted as saying that she and several women were considering leaving. She said: "I dislike the fact that lady associate members are treated as second-class citizens"." If the provisions of the Private Member's Bill, the Sex Discrimination (Amendment) Bill, were adopted, these difficulties would be resolved. The Bill was in line with what the Equal Opportunities Commission proposed in November 1998 and had the support of the Fawcett Society. I understand that the DfEE hopes that change will come naturally and that legislation may not be necessary. May I ask my noble friend to indicate when she replies whether the Government are monitoring the situation and at what point they would support legislation if change is too slow.

There is some evidence that golf clubs in particular are prepared to forgo lottery grants — which are offered on condition that there is no sex discrimination — rather than change their ways. So surely we need a new sex equality Act to update the Sex Discrimination and the Equal Pay Acts and to change the law so that if a club chooses to admit women, it must admit them as equal members. [306]
This issue has nothing to do with political correctness; it is about civilised behaviour. Private clubs are prevented by law from discriminating against people on grounds of race, creed or colour. Any decent person would be affronted if they tried to exclude people because they were Jewish or black or Asian or Welsh. Discrimination on grounds of gender is equally offensive and must come to an end.

9.28 p.m.

BARONESS WILLIAMS OF CROSBY

My Lords, I am grateful to the noble Lord, Lord Faulkner. He may have explained to us why, regrettably, there is only one member of the Conservative Party on the Benches in the Chamber. That may be because of the discriminatory practices of the Carlton Club.

I have to admit that I remember still, as a junior Minister, having to walk through the central heating system of the Reform Club, owing to the thought that, as a female, I would have in some way polluted the halls of the Reform Club by passing across them in order to chair a study group on early forms of genetic manipulation. It just goes to show that we have moved on a little.

I, too, should like to add to the many tributes paid to my noble friend Lord Lester and, for reasons of time, simply say that at some time in the future, when history is written, it will be recognised that the introduction of a culture of human rights owes probably more to him than to any other single person, not only in this country but throughout the whole of Europe. That is something that most of us would very much wish to be written as a tribute about ourselves at the end of our careers.

As to the common equality commission, the noble Baronesses, Lady Greengross and Lady Gibson of Market Rasen — a relatively new Member of our House — have drawn attention to the anomalies, as has my noble friend Lord Addington, which arise as a result of having a large number of split commissions and split bodies; there are some four commissions at the present time. It does not make for effective action in cases of the less widely recognised forms of discrimination.

The noble Baroness, Lady Greengross, referred to discrimination on grounds of age, and my noble friend Lord Addington referred to discrimination on grounds of disability — neither of which have received the kind of attention that race and gender have received up to now. That should not in any way diminish the importance of non-discrimination on grounds of race and gender, but it shows that we have a further step to make in order to treat our citizens equally.

That brings me to the thoughtful speeches of my noble friend Lady Thomas of Walliswood and the noble Baroness, Lady Prashar. Citizenship should be about the acceptance of the equality and respect that we all owe to one another. It should go beyond simple negative anti-discrimination to a positive statement of what citizenship should mean in a multi-cultural and [307] multi-racial society. We believe that an equality commission would enable us to take that final and more positive step.

I now turn to a recommendation in the Hepple report, based on the findings of a review conducted by the University of Cambridge Centre for Public Law. Perhaps I may quote one sentence from the report: "The present framework places too much emphasis on state regulation and too little on the responsibility of organisations and individuals to generate change"." That elicited eloquent statements from the noble Baronesses, Lady Howells and Lady Prashar, about the importance of positive action.

We are looking at a situation where, even now, after 30 years of anti-discrimination legislation in respect of both race and gender, there are still huge inequalities. Some of them were mentioned by my noble friend Lady Walmsley in the case of gender. One might add to that the absence of members of ethnic minorities from the highest positions in the land, including in the Civil Service. Perhaps I may congratulate the noble Baroness, Lady Prashar, on becoming the first Civil Service commissioner. I hope that she will introduce positive action to produce in the Civil Service a more anti-discriminatory view of its duties.

An interesting point was raised about citizenship and the possibility of scientific change. Perhaps I may conclude by saying something about each. In regard to citizenship, it is appropriate that the Minister of State for Education, the noble Baroness, Lady Blackstone, is to reply to the debate. One area where a much more positive position should be taken in regard to human rights and the recognition of the equality of all citizens is the national curriculum. In this country we have been neglectful, frankly — across all parties and over a long period of time — of the training of our young people in the whole field of the recognition of equal rights and respect for all citizens.

The noble Baroness, Lady Wilkins, raised a fascinating point. She spoke eloquently about the dangers of genetic testing establishing differences between people which might affect, for example, their insurance liabilities. I should merely like to add one thought about the future. If we get into a situation where it becomes possible — and that may be very close now — for people to select the genetic traits of their children, including such traits as the colour of their eyes or even the quality of their IQ, it will be essential to have a single body, an equality commission, that can legislate in a field that could present us with huge problems the like of which we have only just begun to envisage. I suggest that one of the areas that an equality commission could examine closely is that of the effects of scientific advance in terms of being able to reinvent inequalities which, after so long, we have tried to legislate against.


THE REFORM
"The Reform" (as it is known in common parlance) currently enjoys extensive reciprocity with similar clubs around the world. It attracts a significant number of foreign members, such as diplomats accredited to the Court of St James's. Of the current membership of around 2,700, some 500 are "overseas members", and over 400 are women.

The Reform maintains reciprocity with many notable clubs around the world, among them The Gridiron Club (Oxford University), the Metropolitan Club (Washington, D.C.), the Jonathan Club of Los Angeles, the Lotos Club of New York City and the Cercle de l'Union interalliée in Paris.

The Reform Club appears in Anthony Trollope's novel Phineas Finn (1867). This eponymous main character becomes a member of the club and there acquaints Liberal members of the House of Commons, who arrange to get him elected to an Irish parliamentary borough. The book is one of the political novels in the Palliser series, and the political events it describes are a fictionalized account of the build-up to the Second Reform Act (passed in 1867) which effectively extended the franchise to the working classes.

The club also appears in Jules Verne's Around the World in Eighty Days (published in 1872, as a novel in 1873); the protagonist, Phileas Fogg, is a member of the Reform Club who sets out to circumnavigate the world on a bet from his fellow members, beginning and ending at the club.

Michael Palin, following his fictional predecessor, also began and ended his televised journey around the world in 80 days at the Reform Club. At the time, the Reform Club, like other London clubs since the 1950s, went through a phase of stipulating a dress code requiring gentlemen to wear a jacket and tie; Palin had not packed a tie, and he was not permitted to enter the building to complete his journey as had been his intention, so his trip ended on the steps outside.
Another BBC TV series features the landmark building, starring David Tennant as the intrepid Phileas Fogg.
THE GENTLE (WO) MANS CLUB - LUCY MORGAN 28 AUGUST 2019

always skip up the steps into the Reform Club. Through the enormous doors I enter a magical world, where my problems at home and work temporarily float away. It's my very own Victorian palace in central London, situated at the very heart of the Establishment in Pall Mall. Grand and yet cosy, it's like visiting your extremely posh nana's house. The staff feel like part of this extended family.

Founded, in 1836, by the movers behind the Great Reform Act of 1832, it still feels as if present members are descendants of these Whigs. Certainly, they tend to be clever, interesting, interested and liberal. Many are older than me, but by no means all. I would never have joined a club full of Tories but at the Reform I find many smart people interested in social change as well as history and excellent wine.
The Reform was the first of the gentlemen's clubs to admit women in 1981, and I am proud to count myself among what I think of as the formidable ladies of the Reform. Although I believe it was a fight to get in at the outset, nowadays the club is proud of its feminist credentials. In 2018 there was an evening celebrating women's suffrage with a theatre company acting out key historical events, and speeches from Baroness Boothroyd and Lady Hale, the first and only female speaker of the House of Commons and the first (and current) female President of the Supreme Court.
Within the club, all sorts of societies are run by volunteer members. I attend the Science and Technology, Economics and Current Affairs, Media and the Reading Groups, but there are many more. The general format is dinner and a speaker, although this varies, and speakers are often eminent. I have learnt much I did not know and thought about issues I would not have considered through attending these events. Sometimes I bring friends, but more often I go alone – I almost always meet new and interesting people and as a result, I have a wide acquaintance. As a divorced woman, I have never experienced any form of creepiness from the male members; in fact, many of the older generation often express anxiety about committing a faux pas in the 'Me Too' world.
I haven't stayed overnight in one of the rooms because I have kids at home, but I'm dying to. I especially fancy staying over the weekend (no catering then though) when there isn't a wedding or a film shoot on and lounging in the library in my pyjamas. The library is huge, like the fabulous book-lined parlours of Around the World in Eighty Days or M's office in the old James Bond films. If they don't have the book you're seeking, they'll go and get it for you from the London Library, just over the road. I had a fantasy when I joined the club of curling up by a fire with a book or periodical and not moving for a very long time.
I use the garden, which is also divine, especially of a summer evening after dinner with friends. The architecture, décor and garden have their own traditional English style, and bear no resemblance whatsoever to a hotel, unlike some other clubs that have undergone disastrous refurbishments. There is true magic here.
Speaking of which, for those of us who have become addicted to the Rivers of London books by Ben Aaranovitch, large parts of the Folly's interior are clearly modelled on the Reform. All sorts of films hire it out as a location, Paddington being a notable recent hit.
Food is good and reasonably priced, and the cellars are outstanding. I have learnt something about wine since joining but have much more work to do on this! There is no background music, which I see as a major selling point.
For the future? I think it is rosy at the Reform. We need more younger members, more women, and far more black and ethnic minority members, but we are the progressives and therefore the natural home for like-minded members of these groups. It is my personal hope that the club will make more of its historical legacy and find some ways for members to participate in relevant movements for social change, perhaps electoral reform or mentoring, for example.
One reason I like the Reform is because I feel that I am a part of the radical/reforming continuum of English history. I see myself as a descendant of the people who campaigned for the abolition of slavery, and for the vote, and the Reform is a part of that history. Just because Conservative forces so often win the right to tell the story, it doesn't mean that we should forget the inspiring history of people who tried – and often succeeded – in making society fairer. This is a key part of our English history and we need to hang on to it especially in the current dark days.
The Reform is never ever going to be hip , but it is historical, thoughtful, beautiful intelligent and meaningful.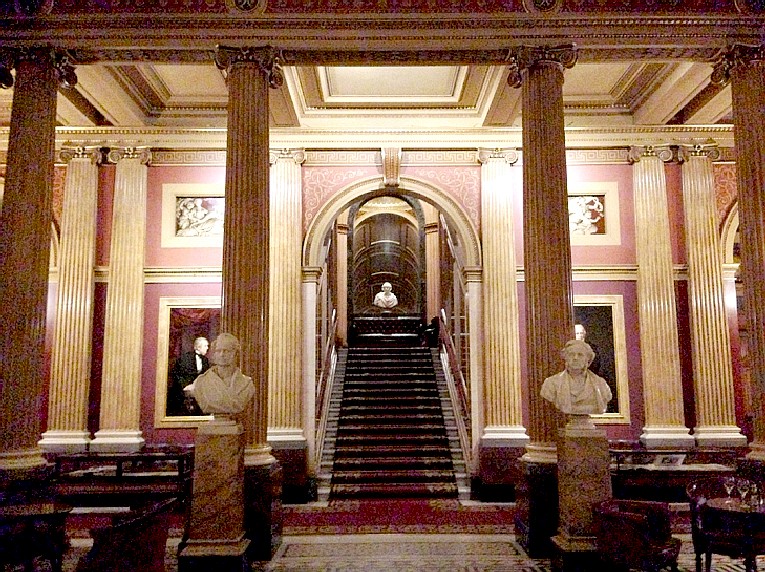 Phileas Fogg represents the lifestyle of many English gentlemen, who indulge themselves in social habits, with strict views on the world around them, while not usually engaging such as to soil their hands. The one exception, that turns Fogg's life upside down, is the attitudes of his peers to advancement in transportation, that is shrinking the world. At first he simply repeats his assertions as to calculations he has made, but as his contemporaries escalate the challenge as to his understanding of the world, that they claim is wide of the mark, they make outrageous bets, Fogg is forced to meet the dares being thrown at him, and finally picks up the gauntlet. The aim being to prove the pompous club members incorrect.
PLOT - AROUND THE WORLD IN EIGHTY DAYS
The story starts in London on October 2, 1872. Phileas Fogg is a wealthy, solitary, unmarried gentleman with regular habits. The source of his wealth is not known and he lives modestly. He fires his former valet, James Forster, for bringing him shaving water two degrees too cold. He hires as a replacement, Jean Passepartout, a Frenchman of around 30 years of age.

Later that day in the Reform Club, he gets involved in an argument over an article in The Daily Telegraph, stating that with the opening of a new railway section in India, it is now possible to travel around the world in 80 days.

Fogg accepts a wager for £20,000 from his fellow club members, which he will receive if he makes it around the world in 80 days. Accompanied by his manservant Passepartout, he leaves London by train at 8.45 p.m. on October 2, 1872, and thus is due back at the Reform Club at the same time 80 days later, on December 21.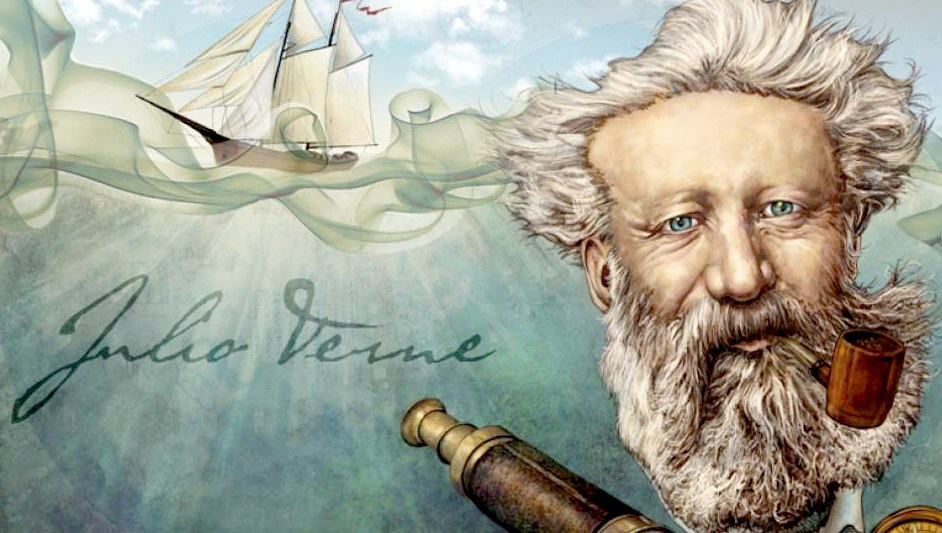 Jules Verne is known as the Father of Science Fiction
Where Jules Verne's suggested that it might be possible to travel Around The World In 80 Days, we would like to extend that ethos to include traveling in a Zero Emission yacht (ZEWT or ZEV) driven by electric hydro-jets? With the advent of solar power, liquid hydrogen and methanol, it is a distinct possibility - on a scale of the wager that the legendary Philleas Fogg entered into at the Reform Club in 1872.