In 2015 Yann Guichard and Dona Bertarelli attempted to win the Jules Verne Trophée aboard a Maxi trimaran: Spindrift 2. The Maxi-trimaran joined Spindrift racing on January 2013. The stand-by start date for Spindrift 2 was October 19th 2015.
In the winter of 2015, she left with a crew of 13 people to attack the Jules Verne Trophy Record. With a course completed in 47 days, 10 hours, 49 minutes, the crew holds the third fastest time in history (@2021), but makes Dona Bertarelli the fastest woman sailor around the globe.

In 2016, she won the title of "Female Sailor of the Year 2016" at the SUI Sailing Awards and won the Transat Québec Saint-Malo in 6 days, 1 hour, 17 minutes and 41 seconds, setting a new record. In 2017, she won 2nd place in the Bol d'Or Mirabaud on board Ladycat powered by Spindrift racing.

In 2019, it was known that she'd would not be aboard Spindrift for their new attempt at the Jules Verne Trophy, leaving the place to her son, Duncan Spath, the team's youngest person. There is a record of the Spindrift making an attempt with Yann Guichard as the skipper.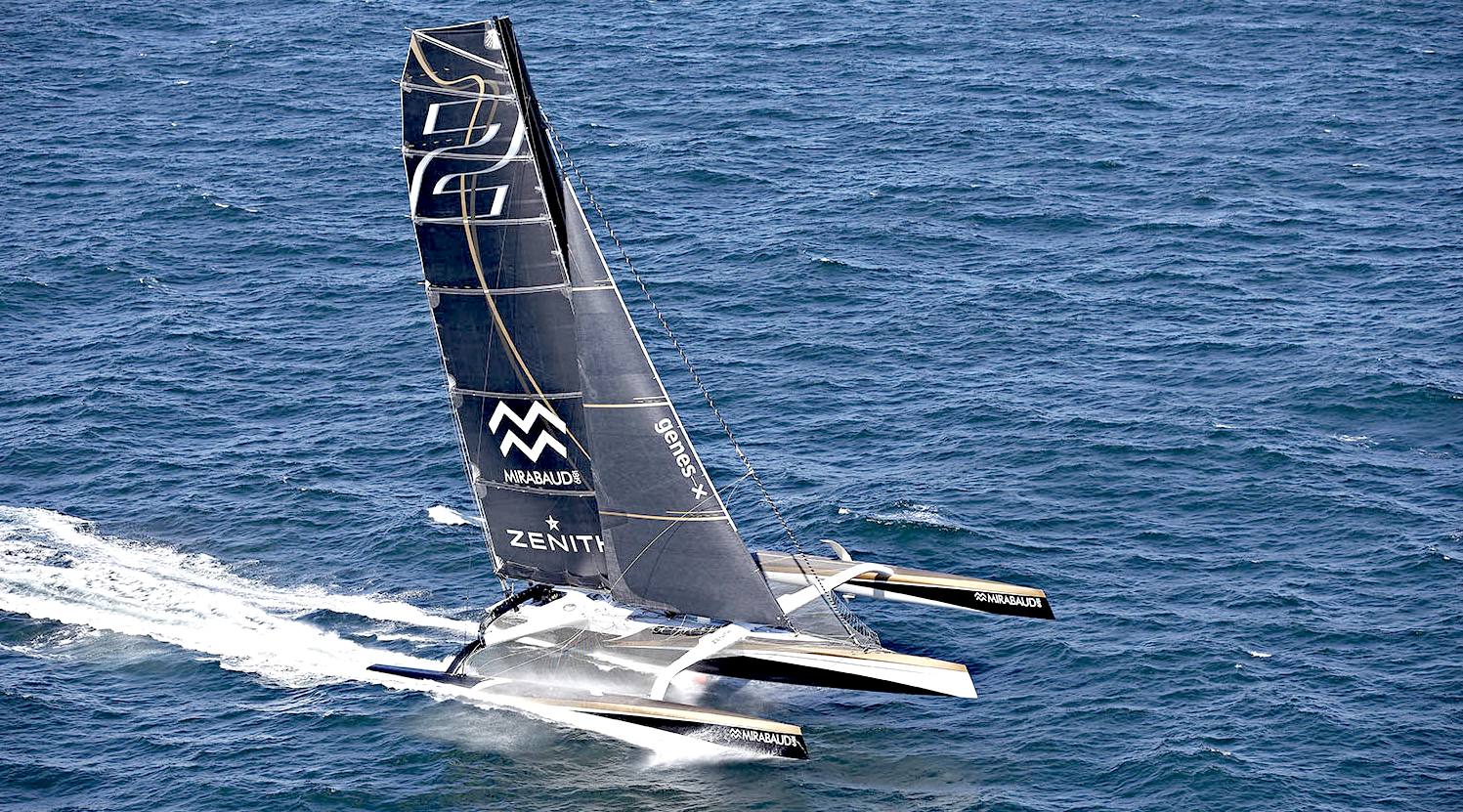 WORLD SAILING RECORD COUNCIL RATIFICATION

Time to beat: 45 days, 13 hours, 42 minutes and 53 seconds
Average speed: 19.75 knots
Date of current record: January 2012
Holder: Banque Populaire V, Loïck Peyron and a 13-man crew
Start and finish: a line between Créac'h lighthouse (Ushant island) and Lizard Point (England)
Course: non-stop around-the-world traveling without outside assistance via the three capes (Good Hope, Leeuwin, Horn)
Minimum distance: 21,600 nautical miles (40,000 kilometres)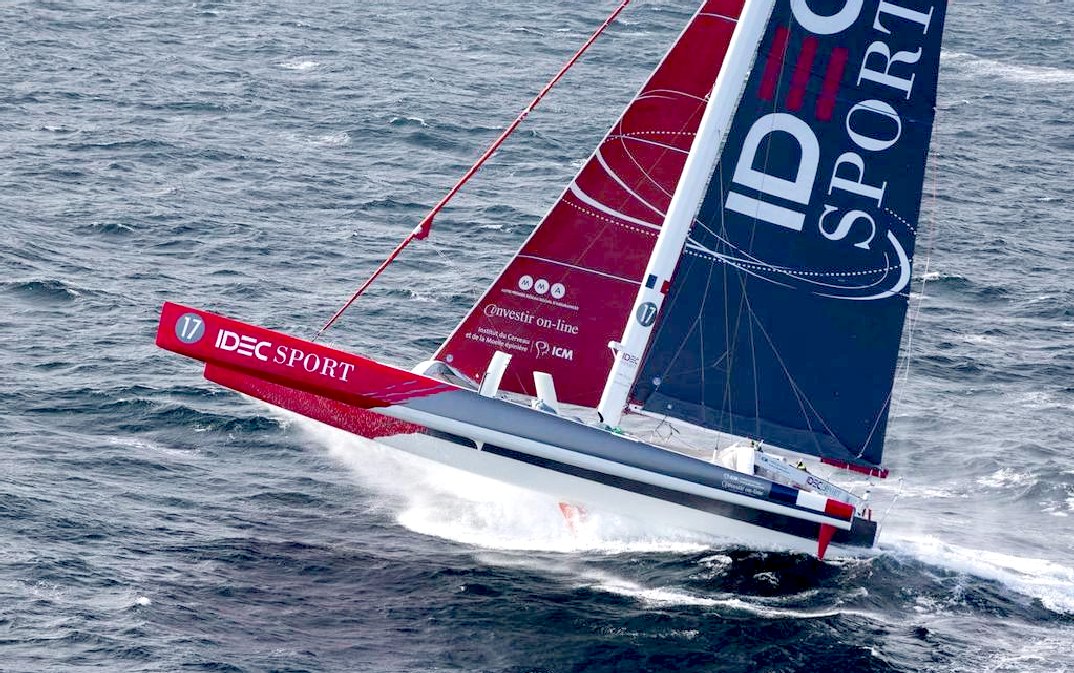 TROPHÉE: JULES VERNE - The current record holder is the IDEC Sport skippered by Francis Joyon, from 2017, set a blistering time of just under 41 days.
CNN SPORTS 22 DECEMBER 2015 - Dona Bertarelli: Swiss billionaire attempts to break around the world record. Dona Bertarelli in conversation with 'CNN Mainsail's,' Shirley Robertson.
In relationships, it's often said that opposites attract. That was certainly the case when Dona Bertarelli met her partner Yann Guichard - both accomplished sailors in their own right, but with differing experiences of being at sea.

At the time of publishing the original article, they were 19 days into their attempt to sail around the world in the fastest time and claim the Jules Verne Trophy.

Swiss national Bertarelli, one of Europe's richest businesswomen - valued by Forbes at $4.3 billion - has a wealth of coastal sailing experience, while Guichard is a decorated offshore sailor.

She has twice won the much-coveted Bol d'Or Mirabaud in her homeland - becoming the first woman in history to do so - and with Guichard co-skippered the Maxi Spindrift 2 team to line honors in the 2015 Rolex Fastnet race, defending their title.

Sailing runs in her family - Bertarelli's brother Ernesto owned Team Alinghi, which twice won the America's Cup. Its maiden victory in 2003 was the first time a team had won the trophy on its first attempt, and it successfully defending it in 2007. However, prior to meeting Guichard, she had never entertained the thought of offshore sailing.
"The 'why' (to sail offshore) didn't come right away. I was introduced to offshore sailing through Yann because he was doing that already for a long time - he did the Jacques Vabre four times and he holds two Atlantic records."
DONA'S SAILING ACHIEVEMENTS
2015 – Winner of the Rolex Fastnet Race (trimaran 131' Spindrift 2)
- 3rd in D35 Trophy, D35 Ladycat powered by Spindrift racing
- 3rd of the Bol d'Or Mirabaud 2015
2014 – Female Sailor of the Year 2014, at the SUI Sailing Awards. Winner of the Bol d'Or Mirabaud 2014 on board Ladycat powered by Spindrift racing
2013 – Holder of the Discovery Route record in 6 days, 14 hours, 29 minutes and 21 seconds on board 131' trimaran, Spindrift 2, Winner of Fastnet Race on board 131' trimaran, Spindrift 2
2012 – 3rd of the Vulcain Trophy 2012 on board D35 Ladycat powered by Spindrift racing
2010 – Winner of the Bol d'Or Mirabaud 2010 on board D35 Ladycat
2008 – 2nd in Open de Rolle, D35 Ladycat
2007 – first event on D35 Ladycat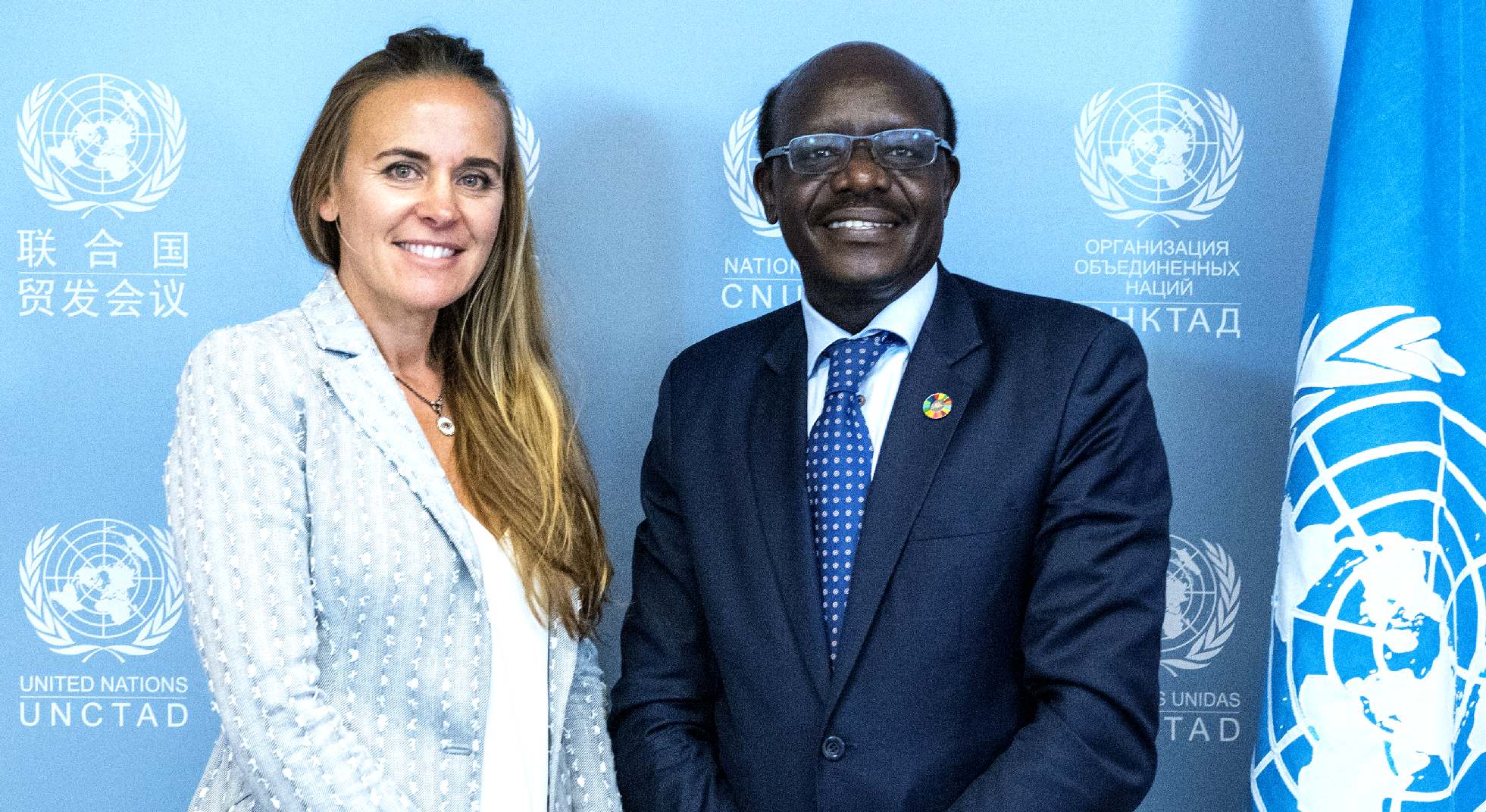 UNCTAD: Dona Bertarelli is an exacting, determined businesswoman, who is actively involved in several foundations, including the Bertarelli Foundation for marine conservation. She began offshore multihull sailing in 2013 aboard Spindrift 2.

During that first year, she listened, learned, gradually gained confidence and developed her skills, as well as setting her first crewed record, in the Atlantic Ocean. "During the Discovery Route (Cadiz-San Salvador), I was surprised that I didn't want it to end," explains Dona.

The sailor has continued to increase her experience. In 2015, she followed in the footsteps of Tracy Edwards (1998) and Ellen MacArthur (2003) in attempting to become the first woman ever to win the famous circumnavigation against the clock.
She is a special adviser to UNCTAD (United Nations Conference on Trade and Development) seen here with Mukhisa Kituyi of UNCTAD
The Jacques Vabre is a race that follows a historic coffee trading route between France and Brazil. Despite Guichard's expertise on the high seas, Bertarelli initially had some reservations.

"I wasn't ready yet," said the 47-year-old. "The only thing that we were sure of was that we wanted to do a project together."

Bertarelli launched her Ladycat project in 2007, and won her first Bol d'Or in 2010 with the Spindrift team on the Decision 35 catamaran. However, it took some time for her and Guichard to decide what their collective project would be.
"He had his career and I had Ladycat and we were seeing each other sometimes during the weekend if Yann was coming to race in Switzerland. At one point we said, 'Okay, we want to share this passion together, so what can we do together?'"
"At first, the reaction was that we wanted to sail for the Olympics but we soon realized that it would not be possible because he's French and I'm Swiss and it would take too many years to get the nationality right."

"So we abandoned that project quite quickly and when Spindrift 2 - which was the ex-Banque Populaire V - came for sale then we said, 'Okay but what about breaking records, what about offshore sailing?'"

Banque Populaire V is the current holder of the Jules Verne Trophy, having set the leading time of 45 days, 13 hours, 42 minutes and 53 seconds, a record set by Loick Peyron and his crew in 2012. They also won the Fastnet the previous year in a record time.
When it came to the market in early 2013, Bertarelli said her team didn't even ask to try out the 40-meter (130-foot) yacht - which is the world's largest racing trimaran.
"We just bought it and I was just keeping my fingers crossed that I would enjoy it, that I would not be sick, that I would be able to have a role on board which I really wanted, that I would be able to help - because that was my challenge."
"It was really during the Discovery Route that we did three years ago, doing that offshore sailing and that record. We were 10 days at sea when we arrived back in Miami and I said, 'I want to go, let's go back, I'm ready for some more.' "I just loved it and the Jules Verne came just right after that, I said, 'Okay the ultimate challenge, then it's 45 days at sea,' and I prepared for that challenge ever since."
DONA BERTARELLI: Dona Bertarelli is quoted as saying: "The Jules Verne Trophy is the highlight of a programme we drew up as soon as we bought the trimaran Spindrift 2. The tour around the world will require total physical, mental, professional and especially personal dedication. Being a team means relying on each another, supporting each other, and accepting the highs and lows while striving to strike the right balance to succeed together. Yann and I are hugely motivated by this immense challenge. We want to surround ourselves with people who share our approach and our values. We're also driven by a desire to share our passion for sailing with the public, especially youngsters, and to show them the hard work put in by our team. Very soon we'll reveal the tools we've decided to use to achieve this goal."
"This circumnavigation is probably one of the biggest challenges I've ever set myself," says Dona. "We've spent several years preparing ourselves and preparing those close to us who support and encourage us, but I don't think you can ever be fully prepared for the unknown that awaits us. If we want to enjoy the adventure, those of us out at sea and those ashore will have to accept whatever comes our way."
Yann Guichard is quoted as saying: "Apart from the competition itself, for Dona and me it is as much about the human adventure. The record attempt brings together sailors who competed in Olympic series before turning to offshore competition and sailors with previous experience of oceanic record attempts and the Southern Ocean. Spindrift 2 is a prototype, so we have to take good care of her. Multihull specialists are aware of the fundamental balance we must strike between speed and safety. I'm surrounded by sailors who I know are talented and who feel good at sea. I can rely on them and trust them. In training I see us gel as a team, which gives me such a strong desire to experience this unique challenge together."
To embark on her first real offshore sailing experience - and one of the most dangerous and grueling in the world - having a skipper like Guichard, somebody that Bertarelli trusts implicitly, is essential.

"Yann is a leader but he's the type of leader that uses a smooth leadership, he doesn't use strength or authority to gain power or control. He doesn't get excited very often, he's calm and he's someone that thinks a lot, constantly and he's always on watch for everybody all the time but he never screams, he never yells, he never gets mad."

"Sometimes he gets annoyed but he's not the type that is going to make you feel uncomfortable about it, he's going to be talking about it and he's always looking to find a solution and being very positive about what's going on."

#Spindrift racing presents the crew for the #JulesVerneTrophy - #Sharetheadventure https://t.co/9ENgnJtohX

— Spindrift racing (@spindriftracing) October 22, 2015

Peyron's 2012 success was the eighth time the record had been set, while there have been 15 failed attempts.
As of December 10, on Spindrift Racing's approach to Australia, the team was 198 nautical miles behind Peyron's record as it led rival IDEC Sport - the former Banque Populaire VII, which set the around-the-world record in 2010.
While tackling such a unique event with a skipper without experience on the route may have raised some eyebrows, especially with names such as Peyron available, Bertarelli had full confidence in her partner.

"I think it's not the question of pedigree or professionalism or are you mature enough or experienced enough. The experience and the professionalism of Yann is there, he has proved it many times," "Now I think in a challenge like this one, you have to go with people that you trust and to me it's very important to be in a team that shares the same values and sail in the same way."

#Spindrift2 beat the current title holder by 17h25'16'' when crossing the equator! @Zenithwatches #JulesVerneTrophy pic.twitter.com/4bOQntk9IL

— Spindrift racing (@spindriftracing) November 27, 2015

Bertarelli says that everyone she met, even prior to the couple starting Spindrift 2 together, enjoyed sailing with the 41-year-old Guichard due to his "calm, strong and reliable" nature.
"He doesn't take any risks which are unnecessary - he's very 'reflechie' (thoughtful) as we say in French, so he's a very good teacher," she said.
"He knows how to explain very well what he wants and what needs to be done, and it's very reassuring to have someone who has an eye on everything, that knows how to do everything on a boat. "Yes, I think he's a great leader but a calm one, and it's very comfortable sailing with him."


CREW
Yann Guichard, skipper
Dona Bertarelli, helmsman-trimmer
Sébastien Audigane, helmsman-trimmer
Antoine Carraz, helmsman-trimmer
Thierry Duprey du Vorsent, helmsman-trimmer
Christophe Espagnon, helmsman-bowman
Jacques Guichard, helmsman-trimmer
Erwan Israël, navigator
Loïc Le Mignon, helmsman-trimmer
Sébastien Marsset, bowman
François Morvan, helmsman-trimmer
Xavier Revil, helmsman-trimmer
Yann Riou, media reporter
Thomas Rouxel, helmsman-bowman
Jean-Yves Bernot,onshore router
Simone Gaeta, substitute
Thomas Le Breton, substitute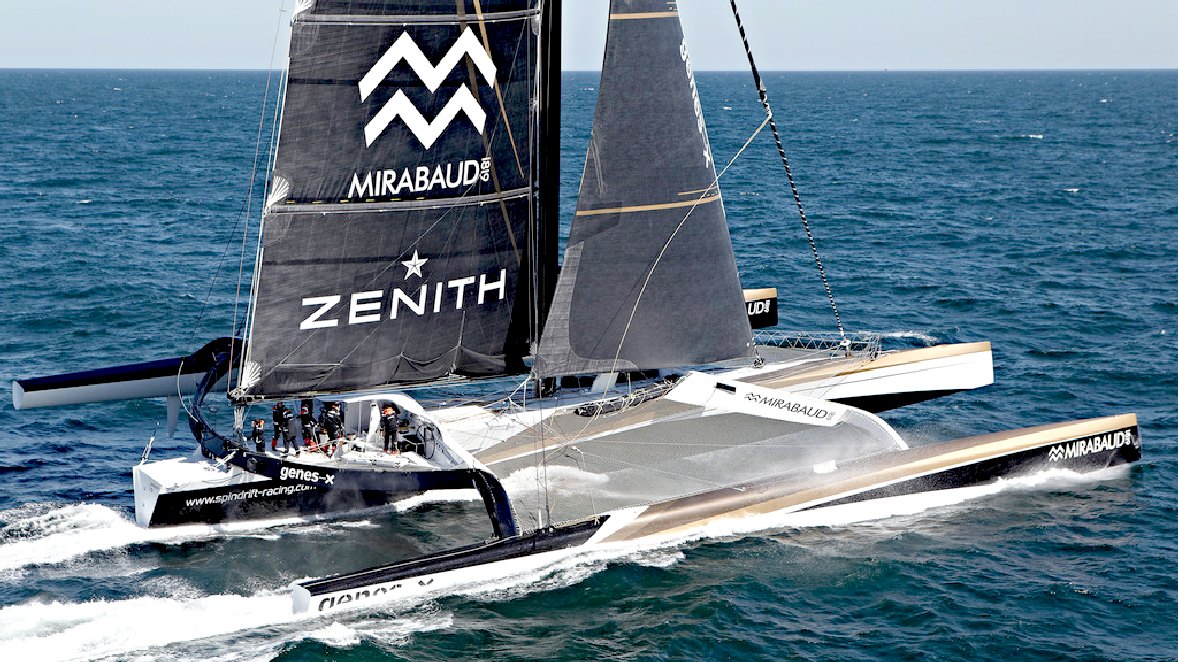 A SEASONED CREW

One of Spindrift racing's goals is to perform well all year round on the different circuits on which it competes. To achieve this, a core group of sailors accompany Dona and Yann throughout the year on the D35, the Diam 24, the GC32 and the maxi-trimaran.

From that core group, Christophe Espagnon, François Morvan and Xavier Revil, whom Yann met during his Olympic preparations, will be part of the Jules Verne Trophy crew, as will the skipper's younger brother Jacques Guichard, who is the team's sailmaker at North Sails. Xavier Revil has already sailed around the world on the same boat as part of Loïck Peyron's record-breaking crew in 2012.

Another member of Peyron's crew was Thierry Duprey du Vorsent, who was brought in to the project last winter as Boat Captain because of his maritime experience over the last fifteen years, including his role in the Banque Populaire V record. Antoine Carraz was also part of the previous record and is one of the persons who know Spindrift 2 the best, having spent three years as technical manager for the trimaran and for the design office. This will be his first circumnavigation during which he will be keeping a particularly close eye on the boat.

Three other crew members – Thomas Rouxel, Sébastien Marsset and Erwan Israël – were part of the team that beat the Discovery Route record (Cádiz-San Salvador) on Spindrift 2 at the end of 2013, so their experience on the boat will also be important. Two of three have just competed in the 2014–15 Volvo Ocean Race: Thomas for the Chinese Dongfeng Race Team and Sébastien for the American Team Alvimedica. None of the three, however, took part in the Southern Ocean leg, so they will have their sights set firmly on rounding Cape Horn during the Jules Verne. Erwan Israël was Yann Guichard's router for the 2014 edition of the single-handed Route du Rhum (Yann was sailing Spindrift 2), and last winter he joined
Dongfeng for the Sanya-Auckland stage of the Volvo Ocean Race. After several months as Spindrift racing's performance analyst, Erwan will be the navigator for the Jules Verne Trophy, working alongside the skipper at the chart table to determine the best route.

Yann Riou also has experience in the Volvo Ocean Race: the former electronics specialist was Groupama's media reporter
during their victorious 2011–12 campaign, and in the latest edition of the race he performed the same role for Dongfeng Race Team. Yann will be the first full-time on-board reporter for a Jules Verne record attempt.

Dona Bertarelli and Yann Guichard have called up two men with vast experience sailing multihulls at high speed in the Southern Ocean. Brest-based sailor Sébastien Audigane will take on sailing's most famous record for the fourth time, having been part of Bruno Peyron's successful bid on Orange II in 2005 and the unsuccessful attempts by Olivier de Kersauson in 2002 and Franck Cammas in 2008. Loïc Le Mignon, meanwhile, was part of the Jules Verne attempts by Groupama 3, including the successful one in 2010.

Onshore support will be provided by world-renowned meteorologist and offshore sailing router Jean-Yves Bernot, who has prepared and routed some of the world's best single-handed sailors. Jean-Yves has also competed in the Whitbread Round the World Race and has been a crew member for various teams in different countries.

Finally, there are two reserves, Thomas Le Breton and Simone Gaeta, both of whom have trained on the maxi-trimaran this season and are ready to stand in if a crew member has to drop out.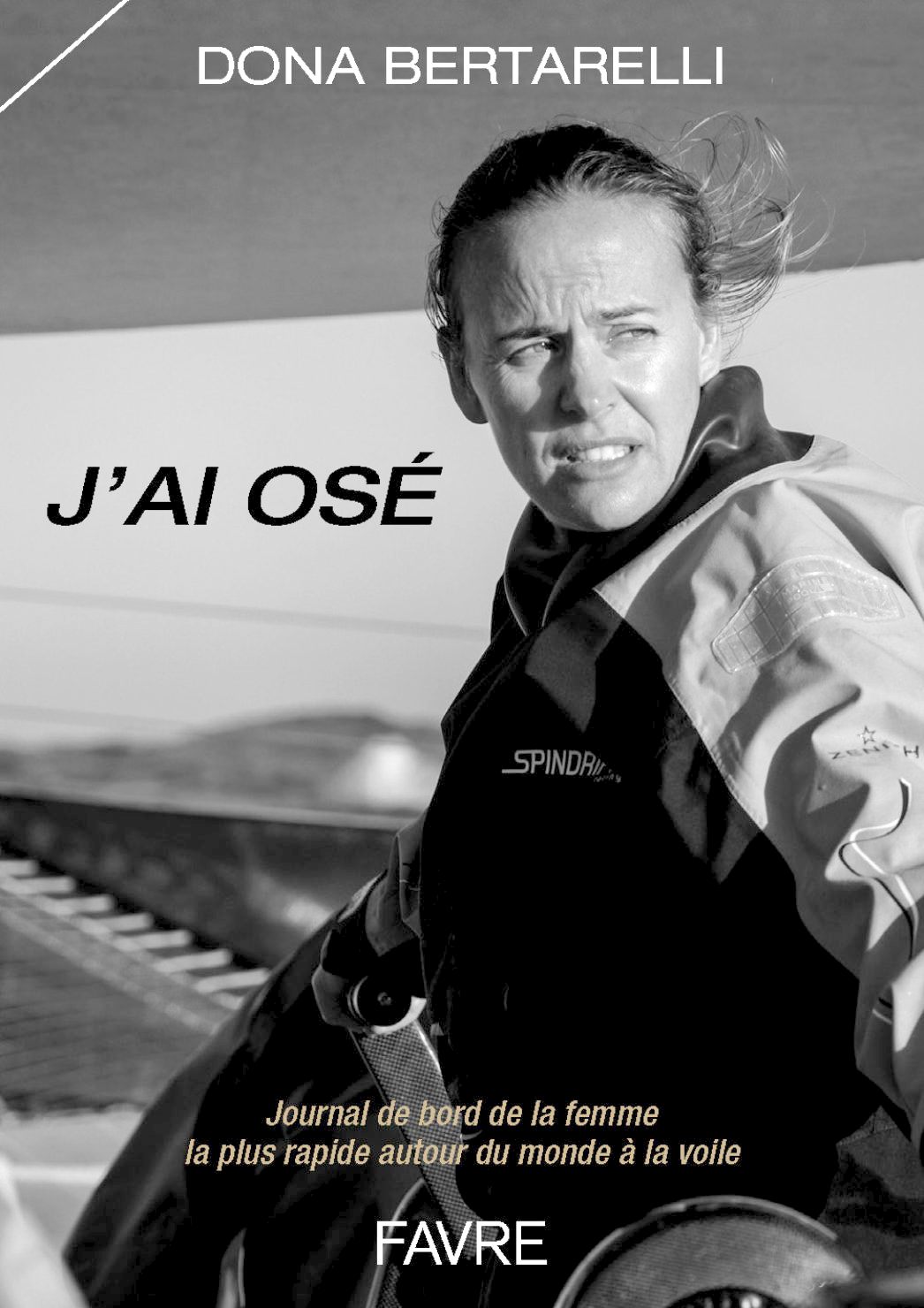 PHILANTHROPIST: In 1999 Dona and her brother founded the Bertarelli Foundation to promote the sharing and development of scientific, social and economic knowledge in the field of infertility. For ten years, Bertarelli was Chairman of the Foundation.

An article on the need for blue recovery sustainability, for which Bertarelli was co-author, was published in July 2020. Mukhisa Kituyi, Secretary-General of UNCTAD and Berarelli encouraged countries around the world to explore and expand the "Blue economy" a month later. In November 2020, Bertarelli praised the decision to protect the waters of the archipelago, which was made by the Island Council of Tristan da Cunha.

In 2021, the Bertarelli Rare Cancers Fund supported USD 15 million in research projects and community building.

Bertarelli is an ambassador for the Swiss transfusion charity Ma Vie Ton Sang and is a supporter of the World Health Organization's 'Go Red for Women' campaign. She is also a godmother to the Womanity charity (formerly Smiling Children).
OCTOBER 12 2015 - First around-the-world campaign for Dona Bertarelli and Yann Guichard

To undertake the crewed around-the-world record is as much about the human adventure as it is a technical and sporting challenge. The men and women working alongside Dona Bertarelli and Yann Guichard at Spindrift racing have been preparing this race against the clock for almost three years. The target: to sail around the world in less than 45 days, 13
hours and 42 minutes. The tough record they will try to beat was set by Loïck Peyron and his crew in 2012 on Banque Populaire V, which was renamed Spindrift 2 a year later.

The French-Swiss team decided to use the same 40 m trimaran because they believed that the boat could be further optimised, a task that sailors, engineers and technicians at the team have been working on ever since. Essentially, buying an existing vessel with a good pedigree, shortens the development time of such a project considerably. That said, the undertaking is still enormous.
After countless hours of work at the boatyard and 40,000 nautical miles of racing and training, the Spindrift racing-prepared trimaran is all set to go. The team will officially go on stand-by on October 19th and wait for the ideal weather window.

With just a few days left until that important date, Dona and Yann are pleased to announce the twelve men who will join them on their journey through the world's most hostile oceans. Most are multihull experts; some have an Olympic background; others, experience in offshore challenges; but all are familiar with the trimaran and share the team's values and mindset. The crew members know each other, having competed together for Spindrift racing or taken part in other projects. Some have already circumnavigated the globe, whether in the Jules Verne Trophy or the Volvo Ocean Race.
Two challenges lie ahead for the skipper Yann Guichard, who has dedicated his career to elite multihull sailing and has made more than 15 transatlantic crossings. First, to complete his first around-the-world sail, and second, to take charge of the boat and the crew on board. "I must concentrate hard to make the right choices at the right time, whether during early or final preparations or out on the water," says Yann. He set up Spindrift racing with his partner Dona Bertarelli, and the couple are jointly responsible for the team's day-to-day development and management. Dona is an exacting, determined
businesswoman, actively involved in several foundations, including the Bertarelli Foundation for marine conservation, and she has been involved in the Jules Verne Trophy project from day one.
She first took up offshore multihull sailing on Spindrift 2 in 2013. Since then she has listened, observed, honed her skills and grown in confidence, and is now ready to spend more than 40 days at sea, following in the footsteps of Tracy Edwards (1998) and Ellen MacArthur (2003) in attempting to become the first woman ever to beat the record.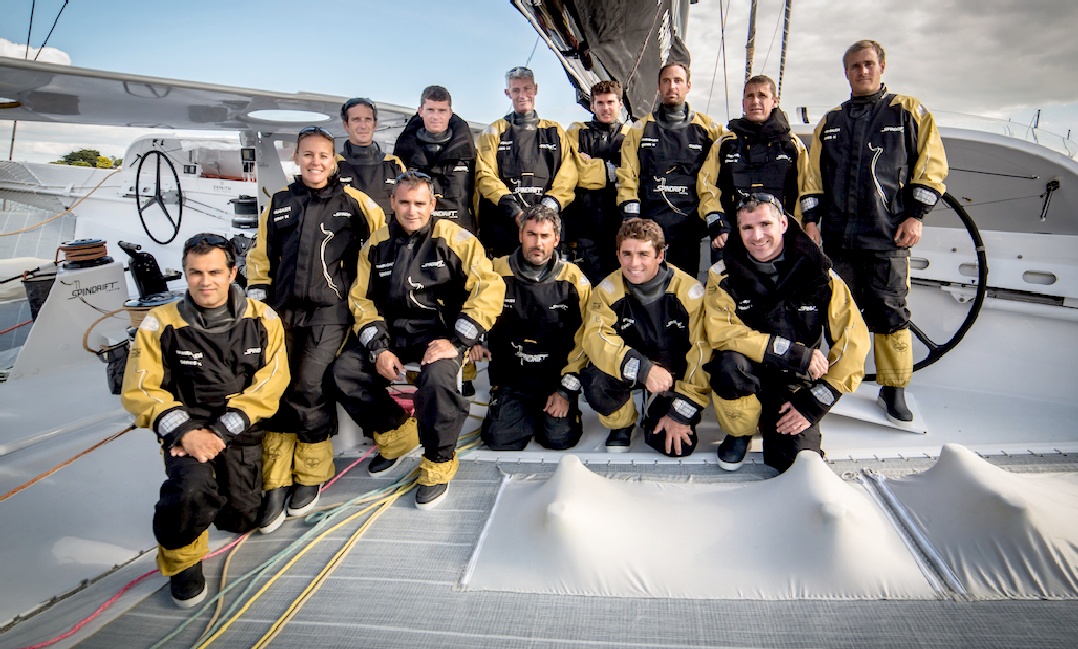 CREW: From left to right, at the top : Thierry Duprey du Vorsent, Thomas Rouxel, Sébastien Audigane, Antoine Carraz, Sébastien Marsset, Xavier Revil, François Morvan.
From left to right, at the bottom : Yann Riou, Dona Bertarelli, Yann Guichard, Jacques Guichard, Christophe Espagnon, Erwan Israël. (Loïc Le Mignon, not in the picture)
SPINDRIFT 2 MAXI-TRIMARAN SPECIFICATIONS:

Design: VPLP; Spindrift racing design team
Launch date: July 2008
Deck and mast boatyard: CDK Technologies
Sails: North Sails
Length of main hull: 40 metres
Length of outrigger hulls: 37 metres
Width: 23 metres
Dry weight: 20.5 tonnes
Draft: 5.1 metres
New mast height: 42 metres
Mainsail: 405 m²
Gennaker max: 560 m²
Gennaker medium: 450 m²
Gennaker mini: 360 m²
Reacher: 260 m²
Staysail: 170 m²
ORC: 75 m²
LIST OF TROPHY HOLDERS:

2017 – Francis Joyon / IDEC SPORT (31.5m) – 40:23:30:30 (3 attempts) current record holder
2012 – Loïck Peyron / Banque Populaire V (40m) – 45:13:42:53
2010 – Franck Cammas / Groupama 3 (31.5m) – 48:07:44:52 (4 attempts)
2005 – Bruno Peyron / Orange II (36.8m) – 50:16:20:04 (6 attempts)
2004 – Olivier De Kersauson / Geronimo (33.8m) – 63:13:59:46
2002 – Bruno Peyron / Orange (32.8m) – 64:08:37:24
1997 – Olivier De Kersauson / Sport-Elec (27.3m) – 71:14:22:08 (5 attempts)
1994 – Peter Blake, Robin Knox-Johnston / Enza New Zealand (28m) – 74:22:17:22 (2 attempts)
1993 – Bruno Peyron / Commodore Explorer (28m) – 79:06:15:56
LIST OF ATTEMPTS:
2025 - Alexia Barrier / The Famous Project - CIC and IDEC
2023 - Charles Caudrelier & Franck Cammason / 2nd attempt - Maxi Edmond de Rothschild
2021 - Charles Caudrelier / Gitana Team 1st attempt - Maxi Edmond de Rothschild & Franck Cammas
2020 - Thomas Coville / Sodebo Ultim 3 1st attempt - foiling trimaran
2019, 2015 - Yann Guichard / 3 attempts
2015 - Dona Bertarelli & Yann Guichard / 1 attempt
2011 - Pascal Bidégorry / 1st attempt
2003 - Ellen MacArthur / 1 attempt
1998 - Tracy Edwards / 1 attempt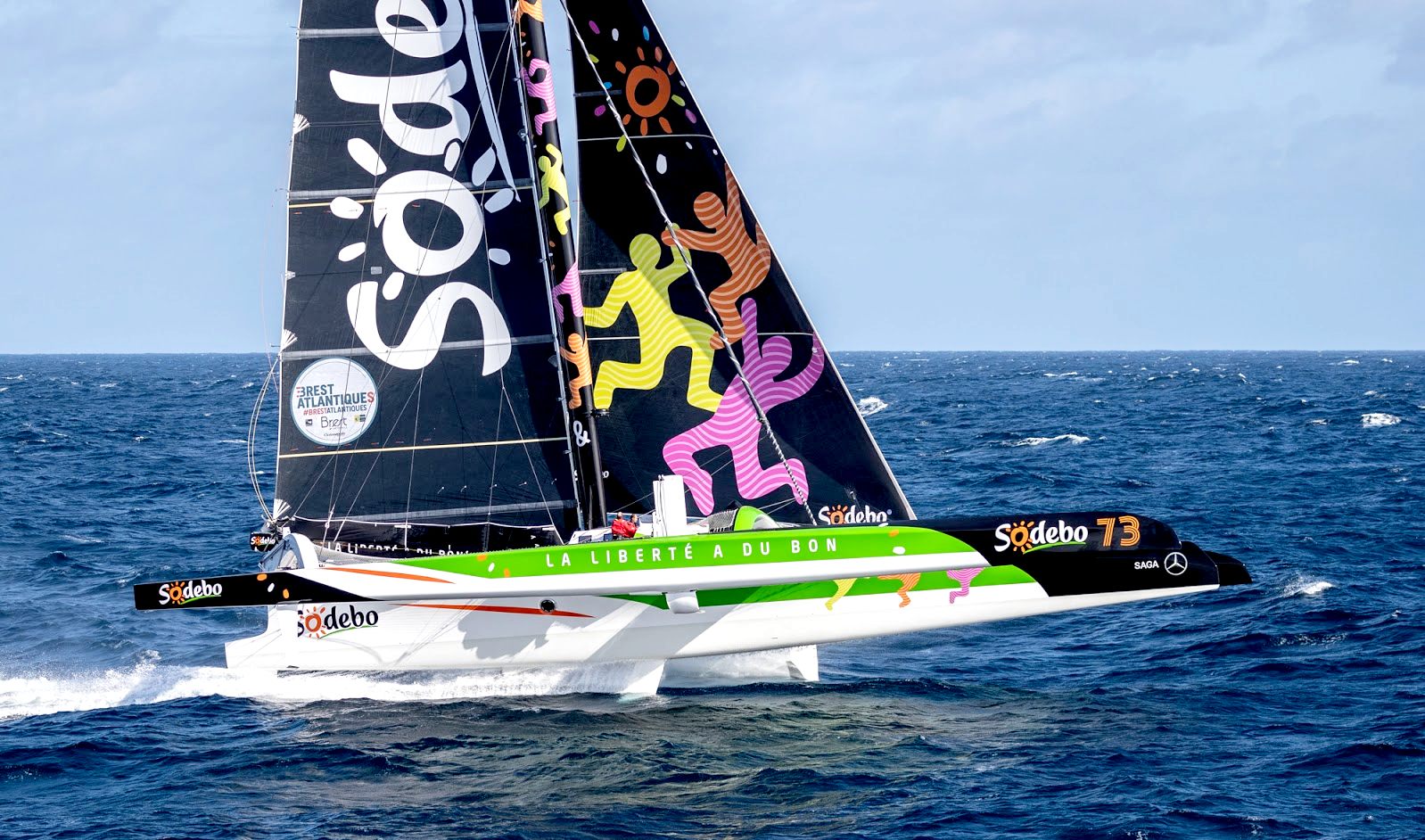 CONTACTS
ASSOCIATION TOUR DU MONDE EN 80 JOURS
Musée de la Marine
Palais de Chaillot
17 place du Trocadéro
75016 Paris
Email: contact@tropheejulesverne.org
LINKS & REFERENCE
https://en.wikipedia.org/wiki/Banque_Populaire_V
https://en.wikipedia.org/wiki/Centerboard
https://en.wikipedia.org/wiki/Cape_of_Good_Hope
https://en.wikipedia.org/wiki/Franck_Cammas
https://en.wikipedia.org/wiki/Groupama_3
https://en.wikipedia.org/wiki/Bruno_Peyron
https://en.wikipedia.org/wiki/Orange_II
https://en.wikipedia.org/wiki/Catamaran
https://en.wikipedia.org/wiki/Bruno_Peyron
https://en.wikipedia.org/wiki/Starboard
https://en.wikipedia.org/wiki/Spain
https://en.wikipedia.org/wiki/Gennaker
https://en.wikipedia.org/wiki/North_Atlantic
https://en.wikipedia.org/wiki/Geronimo_(yacht)
https://en.wikipedia.org/wiki/United_Kingdom
https://en.wikipedia.org/wiki/Olivier_de_Kersauson
https://en.wikipedia.org/wiki/Trimaran
https://en.wikipedia.org/wiki/France
https://en.wikipedia.org/wiki/Trimaran
https://en.wikipedia.org/wiki/New_Zealand
https://en.wikipedia.org/wiki/Peter_Blake_(yachtsman)
https://en.wikipedia.org/wiki/United_Kingdom
https://en.wikipedia.org/wiki/Robin_Knox-Johnston
https://en.wikipedia.org/wiki/Enza_(yacht)
https://en.wikipedia.org/wiki/Catamaran
https://en.wikipedia.org/wiki/Indian_Ocean
https://en.wikipedia.org/wiki/Dona_Bertarelli
https://www.georgebekris.com/
http://www.candystorecup.com/
http://anasaziracing.blogspot.com/
http://guardiansofrescue.org/
http://www.wingsofrescue.org/
http://www.riyachting.com/
http://www.musto.com/
https://edition.cnn.com/2015/12/11/sport/dona-bertarelli-jules-verne-trophy/index.html
https://www.tropheejulesverne.org/en/