In our view, Francis Joyon is one the finest sailors the world has ever known. He has competed in and won just about every prestigious yachting event in the world. But are they yachts any longer, or low flying (ground effect) aircraft? At least they still have hydrofoils in the water to generate lift and raise their hulls out of the sea. Other than that, their sponson arms look to be airfoil wings, with airborne rudders becoming the norm. The IDEC Sport is not a foiler, it is a traditional hull design.
The IDEC SPORT was formerly Groupama 3, Banque Populaire VII, Lending Club 2, IDEC 3. She is a racing sailing trimaran designed for transoceanic record-setting. She is one of the world's fastest ocean-going sailing vessels and the current holder of the Jules Verne Trophy for circumnavigation of the world. She was originally skippered by French yachtsman Franck Cammas, with a crew of ten and sponsored by the French insurance company Groupama. She is currently skippered by Françis Joyon.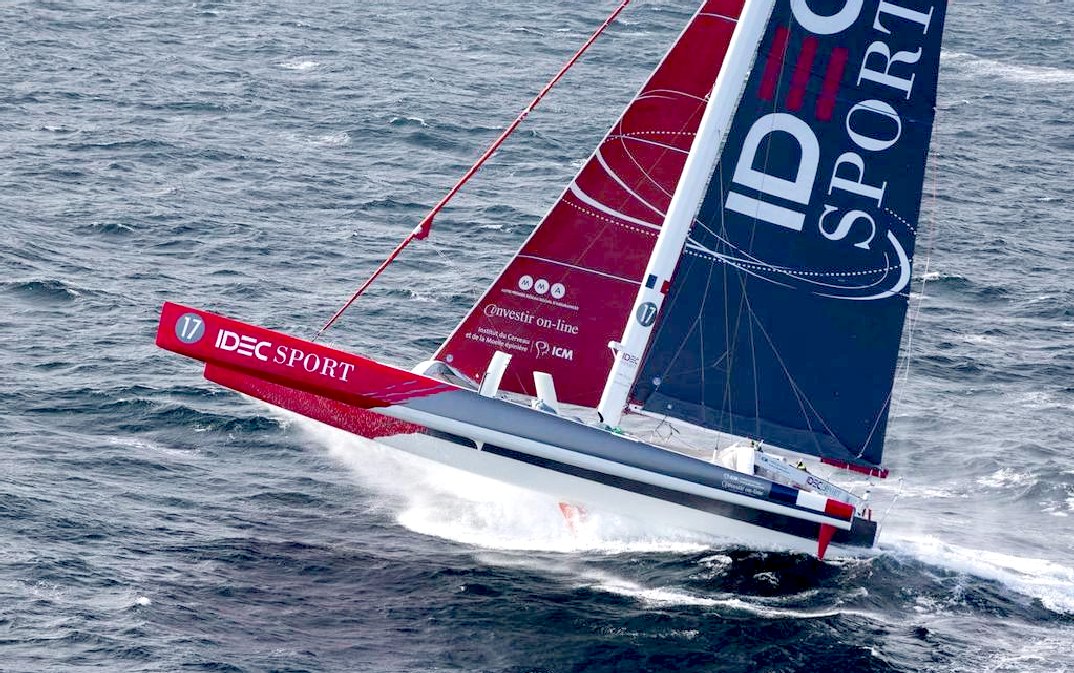 HISTORY OF THE BOAT
Groupama 3 was launched on June 7, 2006. She was the transatlantic record holder between 2007 and 2009.

During a first attempt for the Jules Verne Trophy (circumnavigation of the world) in 2008, Groupama 3 capsized off the coast of New-Zealand.

She was repaired in France and went for another attempt in 2009. Damage to the port hull led to the attempt being called off after 11 days, and the boat limped into Cape Town for repairs. She then returned to France

Groupama 3 began her third attempt and on January 31, 2010. On March 20, 2010, she became the fastest boat to sail around the world and set a record of 48 days, 7 hours 44 minutes and 52 seconds, improving on Orange II's performance from 2005 by more than 2 days. She lost the record on January 7, 2012, to Banque Populaire V, a larger trimaran.

In 2010, she was retrofitted for single-handed racing to take part of the transatlantic race Route du Rhum. In November 2010, Groupama 3 won the French single-handed transatlantic race Route du Rhum (between Brittany and Guadeloupe), with Frank Cammas at the helm, in 9 days and 14 hours, averaging 16.14 knots.

She was sponsored by French bank Banque Populaire to take part of 2014 Route du Rhum, which she won with skipper Loïck Peyron. In November 2014, Banque Populaire VII won Route du Rhum again, with Loick Peyron, in 7 days and 15 hours, beating the record by 2 hours and 10 minutes.

In 2015, French yachtsman Francis Joyon's sponsor IDEC announced that they now financed the boat. Under this new sponsorship the boat was leased for six months to Renaud Laplanche, the CEO of Lending Club. The boat was restored from her shortened-mast single-handed configuration to a full crew configuration and named Lending Club 2. Lending Club 2 set a new cross Channel record and a new trans-Pacific record.
In September 2015 the boat's sponsorship changed to the IDEC Sport. The team set a new circumnavigation record in 2017 and won back the Jules Verne Trophée with a time of 40 days 23 hours 30 minutes 30 seconds.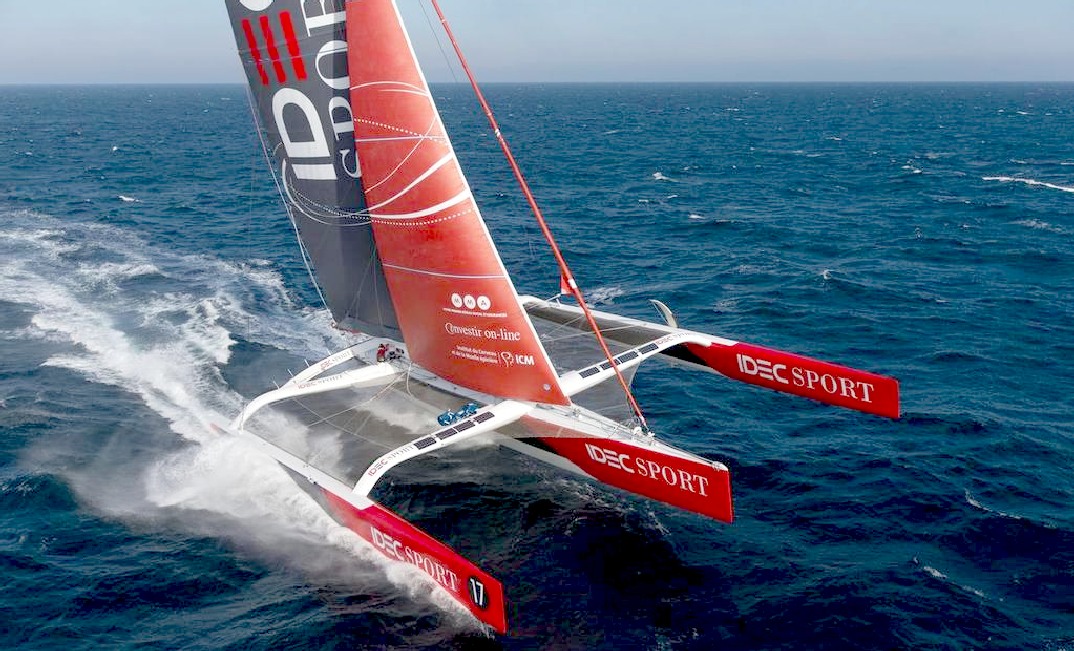 LIST OF TROPHY HOLDERS:

2017 – Francis Joyon / IDEC SPORT (31.5m) – 40:23:30:30
2012 – Loïck Peyron / Banque Populaire V (40m) – 45:13:42:53
2010 – Franck Cammas / Groupama 3 (31.5m) – 48:07:44:52
2005 – Bruno Peyron / Orange II (36.8m) – 50:16:20:04
2004 – Olivier De Kersauson / Geronimo (33.8m) – 63:13:59:46
2002 – Bruno Peyron / Orange (32.8m) – 64:08:37:24
1997 – Olivier De Kersauson / Sport-Elec (27.3m) – 71:14:22:08
1994 – Peter Blake, Robin Knox-Johnston / Enza New Zealand (28m) – 74:22:17:22
1993 – Bruno Peyron / Commodore Explorer (28m) – 79:06:15:56
LIST OF ATTEMPTS:
2025 - Alexia Barrier / The Famous Project - CIC and IDEC
2023 - Charles Caudrelier & Franck Cammason / 2nd attempt - Maxi Edmond de Rothschild
2021 - Charles Caudrelier / Gitana Team 1st attempt - Maxi Edmond de Rothschild & Franck Cammas
2020 - Thomas Coville / Sodebo Ultim 3 1st attempt - foiling trimaran
2019, 2015 - Yann Guichard / 3 attempts - Spindrift
2015 - Dona Bertarelli & Yann Guichard / 1 attempt - Spindrift
2011 - Pascal Bidégorry / 1st attempt - Bank Populaire
2003 - Ellen MacArthur / 1 attempt - Kingfisher II
1998 - Tracy Edwards / 1 attempt - Royal Sun Alliance
CONTACTS
ASSOCIATION TOUR DU MONDE EN 80 JOURS
Musée de la Marine
Palais de Chaillot
17 place du Trocadéro
75016 Paris
Email: contact@tropheejulesverne.org
LINKS & REFERENCE
https://www.tropheejulesverne.org/en/