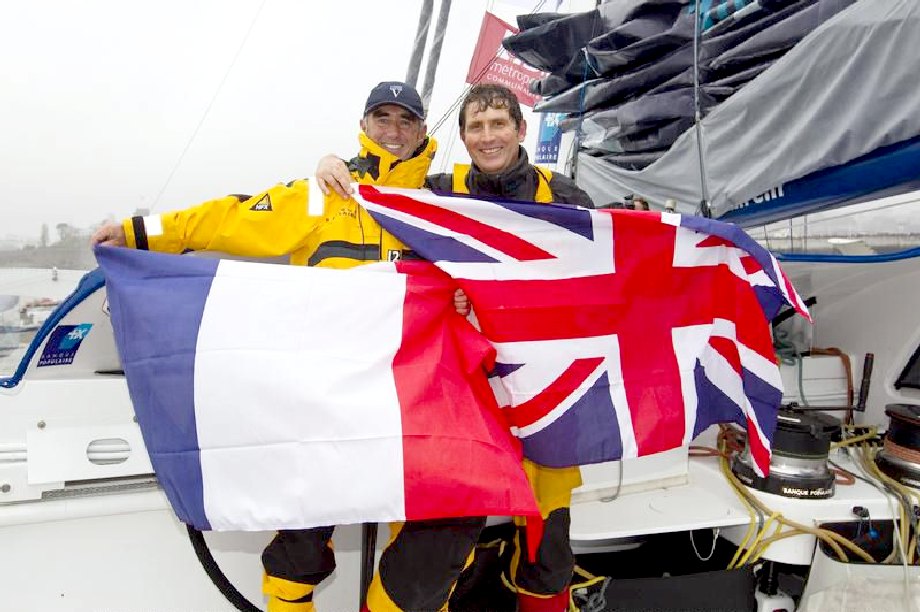 In 2012, Loïck Peyron took the record from Franck Cammas in Banque Populaire V. The team set a new circumnavigation record in 2012 and won back the Jules Verne Trophée with a time of 45 days 13 hours 42 minutes and 53 seconds.
YACHTS & YACHTING NEWS 6 JANUARY 2012

At 22h 14min 35sec GMT, Maxi Banque Populaire V crossed the finish line in their round the world Jules Verne Trophy Record attempt, smashing the record set by Groupama 3 of 48 days 7 hours 44 minutes 52 seconds in March 2010 by nearly 3 days. The new record stands at 45 days 13 hours 42 minutes 53 seconds*.

They sailed a total distance of 29,002 miles at an average speed of 26.51 knots.

Hannah White spoke to Brian Thompson moments after they crossed the finish line - click here to hear the interview.

* Subject to approval by the World Sailing Speed Record Council

The fourteen sailors aboard the Maxi trimaran Banque Populaire V just entered history of offshore racing by becoming the fastest men around the globe with crew, after 45 days 13 hours 42 minutes 53 seconds of sailing*. Loïck Peyron and his crew improved the reference time of the Jules Verne Trophy held by Groupama 3 since March 2010 by 2 days 18 hours 1 minute and 59 seconds.

Historic record for Banque Populaire

Departed on November 22nd at 09:31:42 Paris time (08:31:42 GMT), after having crossed the imaginary line between Ushant (Finistère-France) and Lizard Point (southern tip of England), the Maxi Banque Populaire V crossed the finish line of the Jules Verne Trophy at 23:14:35 Paris time (22:14:35 GMT) this Friday. She undertook this sailing around the world in 45 days 13 hours 42 minutes 53 seconds days at an average speed of 26.51 knots, covering a total distance of 29 002 miles.

Launched in August 2008 in Lorient (Morbihan-France),the giant trimaran holding the colours of Banque Populaire has also established several referenced time on various partials officially listed by the WSSRC for her first world tour:

Equator / Equator record in 32 days, 11 hours, 51 minutes and 30 seconds
Indian Ocean crossing record (Cape Agulhas / South of Tasmania) in 8 days 7 hours 22 minutes and 15 seconds
Under the leadership of the skipper Loïck Peyron, Thierry Chabagny, Florent Chastel, Thierry Duprey du Vorsent, Kevin Escoffier, Emmanuel Le Borgne, Frédéric Le Peutrec, Jean-Baptiste Le Vaillant, Ronan Lucas, Pierre-Yves Moreau, Yvan Ravussin, Xavier Revil, Brian Thompson, Juan Vila and onshore router Marcel van Triest, are the new holders of the Jules Verne Trophy*.
Loïck Peyron, skipper of the Maxi Banque Populaire V:

The feeling from the guys onboard : Emotion and Happiness ! We have filled a good part of the contract! We will now appreciate our victory between us and will return in Brest tomorrow morning to share this beautiful story with everyone. Our memories are full of wonderful images: the departure, icebergs, albatrosses, the Kerguelen Islands... When you sail around the world in 45 days, you see many things. The only one we did not get is Cape Horn but this frustration is quickly forgotten with the record we now have in hands. We are very proud !

Brian Thompson:

"Everyone is really excited on board and we are looking forward to seeing everybody tomorrow morning. This has been an incredible trip around the planet, almost a dream ride. And that is because of the quality of the boat, of the preparation and most of all to the incredible crew on board. I am very fortunate to have sailed with Loïck, the best all round multihull sailor there is, and the rest of the team that are so talented, industrious, dedicated, fun and welcoming to an English guy with schoolboy French! It feels absolutely fantastic. At the same time, to become the first Briton to sail around the world non-stop 4 times, is just amazing and feels very special"

Jules Verne Trophy

Start date and time : November 22nd 2011 at 09:31:42 Paris time (08:31:42 GMT)
Arrival date and time at Ushant: January 6th 2012 at 23:14:35 Paris time (22:14:35 GMT)
Distance: 29,002 miles
Average speed: 26.51 knots
New reference time on the Jules Verne Trophy* : 45 days 13 hours 42 minutes 53 seconds
Time difference with Groupama 3's record in 2010: 2 days 18 hours 1 minute and 59 seconds
* Under the WSSRC approval (World Sailing Speed Record Council).
Loïck Peyron and his crew are expected at the Marina du Château, quai Jean-Francois La Perouse in Brest (France) at around 10:30am this Saturday, January 7th.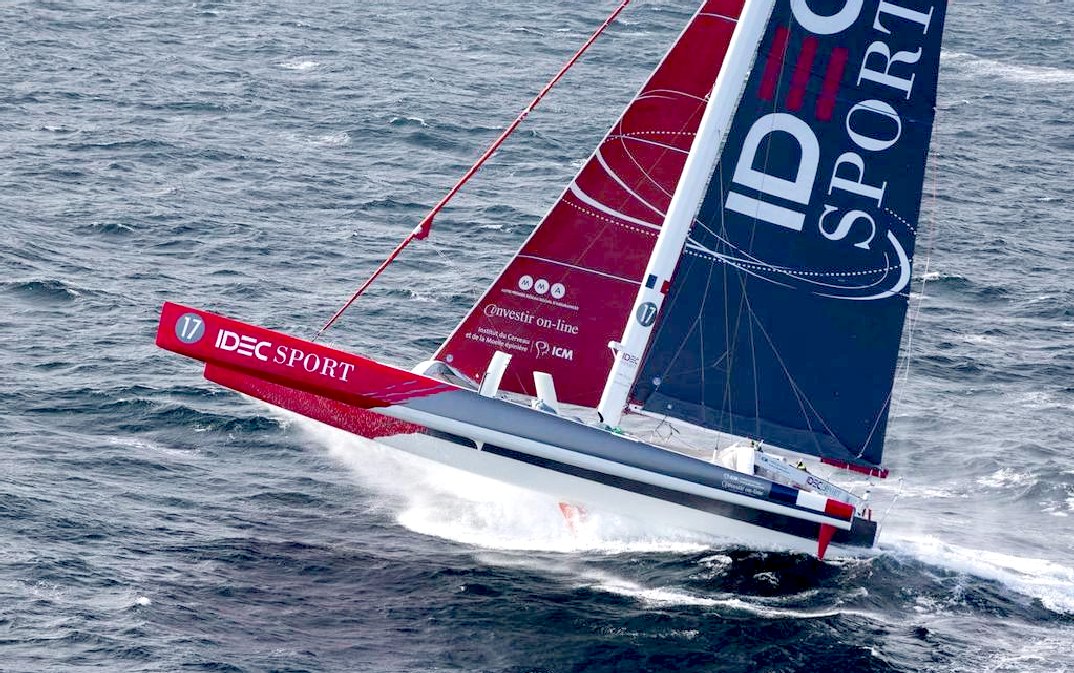 YACHTS & YACHTING 3 MARCH 2010 - Banque Populaire V postpones Jules Verne Trophy attempt

Since mid-November 2009, Pascal Bidegorry and his team have been looking at every weather opportunities to make an attempt on the Jules Verne Trophy. Despite this stand-by period, the Team Banque Populaire has not managed to find the proper conditions has thus decided to reschedule their crewed handed round the world attempt to next fall.

The disappointment is huge. Even though some weather forecasts were seriously considered for a while, some major deterioration of those systems made Pascal Bidegorry and his team forced to wait longer. Ronan Lucas, Team Manager, comes back on the decision of putting an end to the stand-by period: "The disappointment is huge even if we are only postponing it. Until mid-December we were quite demanding, and we were only looking at conditions that could at least bring us at equal time with Orange 2 at the Cape of Good Hope. We had three months ahead of us and it was normal to expect something better and put all the chances on our side to, first complete the round but also to achieve a performance. Then we watched the slightest opportunity, as we wanted to leave, but there were none, except "boat-breaking" ones and no way to leave under those conditions! We did not want to leave either in a spirit of "there we go, we'll see what happens" neither with "double or quits" conditions.

We are responsible for this project and we do not want to jeopardize it. The shame is that we were sure to get an opportunity to leave even with less favorable conditions, but nothing turned up since December 15th. The boat was launched a year and half ago, the project is still new and we are lucky to have some time ahead and to be chasing records until 2012."

No regrets regarding weather conditions

Responsibility therefore prevails today, even though the Maxi Banque Populaire V's crew is disappointed. It is sure that everybody, crew, team and the public, would have liked to see the maxi trimaran chasing the Trophy, however, as Pascal Bidegorry reminds: "our project is still new, and we will chase the Jules Verne trophy this year, the soonest. We have a schedule to follow, and have some public relations campaigns planned in the Mediterranean Sea. We really could not go further in term of deadline. The only regret I have is that we did not get to sail this winter and that was the goal of the whole work provided by the team beforehand. We will carry on the work to prepare at its best our departure in a few months with even more determination."

An extraordinary winter: weather analysis by Marcel van Triest, navigator of the Maxi Banque Populaire V

"We've had an exceptional winter in the Atlantic basin. For January for instance, we have to go back as far as 1985 to find similar conditions and we have to go even further back in time to find similar conditions to the ones encountered in December. This has resulted in very wet and windy conditions in the South of Europe as shown by the bad weather and flooding in places such as: Canary Islands, Madeira and Spain. Cold and snowy conditions in places likes England and the Southern United States are further examples of this type of winter.

One of the symptoms of this 2009 winter was the very southerly path of low pressure systems normally expected around the British Isles. This winter they rather came via the Azores and Madeira to continue their journey in the Mediterranean Therefore, the famous Azores high pressure area could never take hold and the tradewinds that depend on this have been weak and irregular. This situation has persisted throughout the winter. These tradewinds were not only weak and very far south; they were also difficult to reach. Most of the "mouse hole" situations we have looked at were forcing us to sail around low pressure systems off Portugal or the Canary Islands. The subsequent transition from these low pressure systems to the tradewinds was difficult at best.

Our philosophy for the stand-by was: get out of the gulf of Biscay in manageable conditions, reach the Canary Islands in quick conditions and then make a not too painful transition to the tradewinds. We can - at most - have a fairly good idea on the weather for the first eight to ten days. Having full uncertainty for the remaining 80% of the course, our philosophy was to arrive in Cape Town with an advantage over Orange 2. Unfortunately we did not find the right conditions for that. Furthermore with the known presence of ice quite far North this year, we could not afford to arrive in the Southern Ocean without the necessary "cushion" to sail a longer distance to avoid these dangers. Orange 2 did not have that same constraint at the time and she could sail a shorter route.

As for now, leaving for example on March 15-th, means that we would pass (if all goes well) Cape Horn in late April. To give an equivalent in terms of latitude, this would correspond, in our hemisphere, to sail in Scotland late October. You can be lucky if summer drags on a bit, but it could also be very challenging. Late in the season like this everything becomes more severe in the South and at Cape Horn there is no option to take another route. Somewhere, we need to know where to set the limits and not risk getting into a potentially dangerous situation."

One certain thing is that, next fall, it is with a desire and an increased motivation that Pascal Bidégorry and his crew will return on an attempt on the Jules Verne Trophy. In the meantime, they will continue their training, as it must be said, this adventure's departure is only postponed.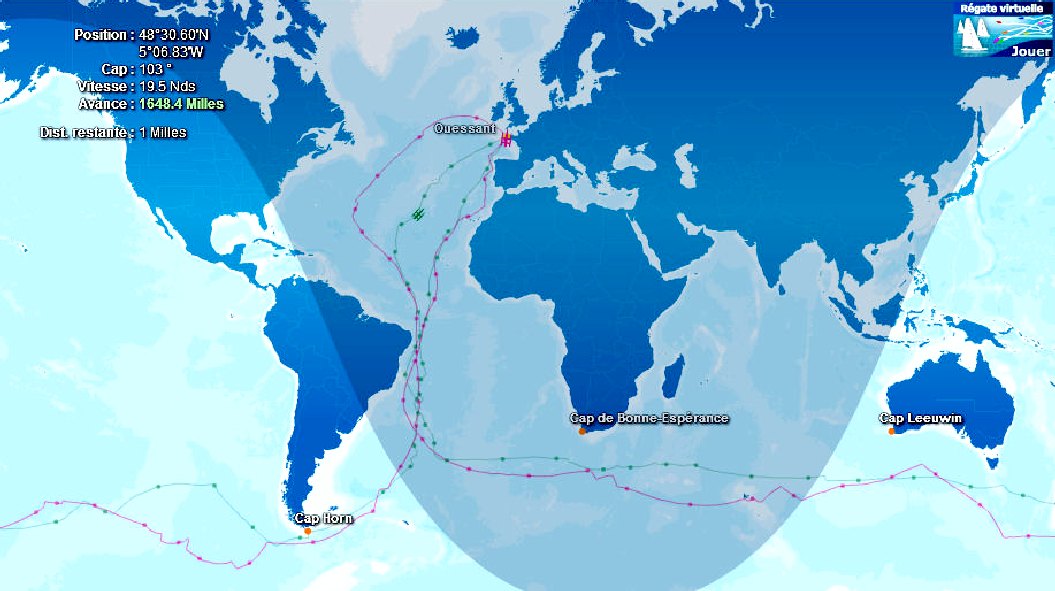 LIST OF TROPHY HOLDERS:

2017 – Francis Joyon / IDEC SPORT (31.5m) – 40:23:30:30
2012 – Loïck Peyron / Banque Populaire V (40m) – 45:13:42:53
2010 – Franck Cammas / Groupama 3 (31.5m) – 48:07:44:52
2005 – Bruno Peyron / Orange II (36.8m) – 50:16:20:04
2004 – Olivier De Kersauson / Geronimo (33.8m) – 63:13:59:46
2002 – Bruno Peyron / Orange (32.8m) – 64:08:37:24
1997 – Olivier De Kersauson / Sport-Elec (27.3m) – 71:14:22:08
1994 – Peter Blake, Robin Knox-Johnston / Enza New Zealand (28m) – 74:22:17:22
1993 – Bruno Peyron / Commodore Explorer (28m) – 79:06:15:56
LIST OF ATTEMPTS:
2025 - Alexia Barrier / The Famous Project - CIC and IDEC
2023 - Charles Caudrelier & Franck Cammason / 2nd attempt - Maxi Edmond de Rothschild
2021 - Charles Caudrelier / Gitana Team 1st attempt - Maxi Edmond de Rothschild & Franck Cammas
2020 - Thomas Coville / Sodebo Ultim 3 1st attempt - foiling trimaran
2019, 2015 - Yann Guichard / 3 attempts - Spindrift
2015 - Dona Bertarelli & Yann Guichard / 1 attempt - Spindrift
2011 - Pascal Bidégorry / 1st attempt - Bank Populaire
2003 - Ellen MacArthur / 1 attempt - Kingfisher II
1998 - Tracy Edwards / 1 attempt - Royal Sun Alliance
CONTACTS
ASSOCIATION TOUR DU MONDE EN 80 JOURS
Musée de la Marine
Palais de Chaillot
17 place du Trocadéro
75016 Paris
Email: contact@tropheejulesverne.org
LINKS & REFERENCE
https://www.yachtsandyachting.com/news/161101/Jules-Verne-Trophy-record-smashed
https://www.tropheejulesverne.org/en/