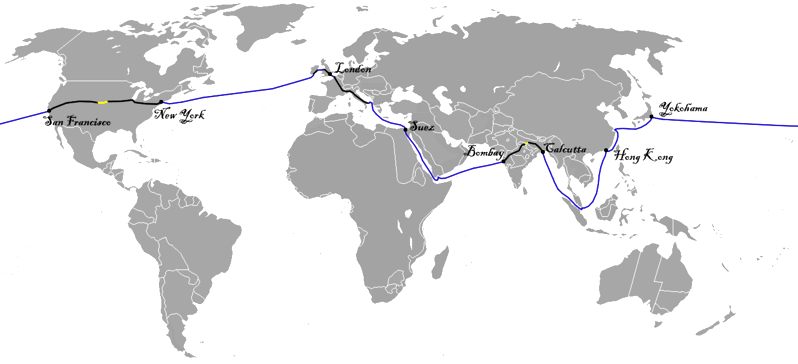 Map of the route taken by Phileas Fogg, starting in London, then proceeding east to Suez, Bombay, Calcutta, Hong Kong , Yokohama, San Francisco, New York, and across the Atlantic ocean to Ireland, then Liverpool England, and back to London. The route planner below is for a circumnavigation on water in under 80 days, using hydrogen, as per the author's prediction in The Mysterious Island. It would be a major achievement if this was arranged to honor the 150th anniversary of his publication.
<<<< CHAPTER VI.

The circumstances under which this telegraphic dispatch about Phileas Fogg was sent were as follows:

The steamer "Mongolia," belonging to the Peninsular and Oriental Company, built of iron, of two thousand eight hundred tons burden, and five hundred horse-power, was due at eleven o'clock a.m. on Wednesday, the 9th of October, at Suez. The "Mongolia" plied regularly between Brindisi and Bombay viâ the Suez Canal, and was one of the fastest steamers belonging to the company, always making more than ten knots an hour between Brindisi and Suez, and nine and a half between Suez and Bombay.

Two men were promenading up and down the wharves, among the crowd of natives and strangers who were sojourning at this once straggling village - now, thanks to the enterprise of M. Lesseps, a fast-growing town. One was the British consul at Suez, who, despite the prophecies of the English Government, and the unfavourable predictions of Stephenson, was in the habit of seeing, from his office window, English ships daily passing to and fro on the great canal, by which the old roundabout route from England to India by the Cape of Good Hope was abridged by at least a half. The other was a small, slight-built personage, with a nervous, intelligent face, and bright eyes peering out from under eyebrows which he was incessantly twitching. He was just now manifesting unmistakable signs of impatience, nervously pacing up and down, and unable to stand still for a moment. This was Fix, one of the detectives who had been dispatched from England in search of the bank robber; it was his task to narrowly watch every passenger who arrived at Suez, and to follow up all who seemed to be suspicious characters, or bore a resemblance to the description of the criminal, which he had received two days before from the police headquarters at London. The detective was evidently inspired by the hope of obtaining the splendid reward which would be the prize of success, and awaited with a feverish impatience, easy to understand, the arrival of the steamer "Mongolia."

"So you say, consul," asked he for the twentieth time, "that this steamer is never behind time?"

"No, Mr. Fix," replied the consul. "She was bespoken yesterday at Port Said, and the rest of the way is of no account to such a craft. I repeat that the 'Mongolia' has been in advance of the time required by the company's regulations, and gained the prize awarded for excess of speed."

"Does she come directly from Brindisi?"

"Directly from Brindisi; she takes on the Indian mails there, and she left there Saturday at five p.m. Have patience, Mr. Fix; she will not be late. But really, I don't see how, from the description you have, you will be able to recognise your man, even if he is on board the 'Mongolia.'"

"A man rather feels the presence of these fellows, consul, than recognises them. You must have a scent for them, and a scent is like a sixth sense which combines hearing, seeing, and smelling. I've arrested more than one of these gentlemen in my time, and, if my thief is on board, I'll answer for it; he'll not slip through my fingers."

"I hope so, Mr. Fix, for it was a heavy robbery."

"A magnificent robbery, consul; fifty-five thousand pounds! We don't often have such windfalls. Burglars are getting to be so contemptible nowadays! A fellow gets hung for a handful of shillings!"

"Mr. Fix," said the consul, "I like your way of talking, and hope you'll succeed; but I fear you will find it far from easy. Don't you see, the description which you have there has a singular resemblance to an honest man?"

"Consul," remarked the detective, dogmatically, "great robbers always resemble honest folks. Fellows who have rascally faces have only one course to take, and that is to remain honest; otherwise they would be arrested off-hand. The artistic thing is, to unmask honest countenances; it's no light task, I admit, but a real art."

Mr. Fix evidently was not wanting in a tinge of self-conceit.

Little by little the scene on the quay became more animated; sailors of various nations, merchants, ship-brokers, porters, fellahs, bustled to and fro as if the steamer were immediately expected. The weather was clear, and slightly chilly. The minarets of the town loomed above the houses in the pale rays of the sun. A jetty pier, some two thousand yards along, extended into the roadstead. A number of fishing-smacks and coasting boats, some retaining the fantastic fashion of ancient galleys, were discernible on the Red Sea.

As he passed among the busy crowd, Fix, according to habit, scrutinised the passers-by with a keen, rapid glance.

It was now half-past ten.

"The steamer doesn't come!" he exclaimed, as the port clock struck.

"She can't be far off now," returned his companion.

"How long will she stop at Suez?"

"Four hours; long enough to get in her coal. It is thirteen hundred and ten miles from Suez to Aden, at the other end of the Red Sea, and she has to take in a fresh coal supply."

"And does she go from Suez directly to Bombay?"

"Without putting in anywhere."

"Good!" said Fix. "If the robber is on board he will no doubt get off at Suez, so as to reach the Dutch or French colonies in Asia by some other route. He ought to know that he would not be safe an hour in India, which is English soil."

"Unless," objected the consul, "he is exceptionally shrewd. An English criminal, you know, is always better concealed in London than anywhere else."

This observation furnished the detective food for thought, and meanwhile the consul went away to his office. Fix, left alone, was more impatient than ever, having a presentiment that the robber was on board the "Mongolia." If he had indeed left London intending to reach the New World, he would naturally take the route viâ India, which was less watched and more difficult to watch than that of the Atlantic. But Fix's reflections were soon interrupted by a succession of sharp whistles, which announced the arrival of the "Mongolia." The porters and fellahs rushed down the quay, and a dozen boats pushed off from the shore to go and meet the steamer. Soon her gigantic hull appeared passing along between the banks, and eleven o'clock struck as she anchored in the road. She brought an unusual number of passengers, some of whom remained on deck to scan the picturesque panorama of the town, while the greater part disembarked in the boats, and landed on the quay.

Fix took up a position, and carefully examined each face and figure which made its appearance. Presently one of the passengers, after vigorously pushing his way through the importunate crowd of porters, came up to him and politely asked if he could point out the English consulate, at the same time showing a passport which he wished to have visaed. Fix instinctively took the passport, and with a rapid glance read the description of its bearer. An involuntary motion of surprise nearly escaped him, for the description in the passport was identical with that of the bank robber which he had received from Scotland Yard.

"Is this your passport?" asked he.

"No, it's my master's."

"And your master is —"

"He stayed on board."

"But he must go to the consul's in person, so as to establish his identity."

"Oh, is that necessary?"

"Quite indispensable."

"And where is the consulate?"

"There, on the corner of the square," said Fix, pointing to a house two hundred steps off.

"I'll go and fetch my master, who won't be much pleased, however, to be disturbed."

The passenger bowed to Fix, and returned to the steamer.
CHAPTERS

1. - I. IN WHICH PHILEAS FOGG AND PASSEPARTOUT ACCEPT EACH OTHER, THE ONE AS MASTER AND AS MAN
2. - II. IN WHICH PASSEPARTOUT IS CONVINCED THAT HE HAS AT LAST FOUND HIS IDEAL
3. - III. IN WHICH A CONVERSATION TAKES PLACE WHICH SEEMS LIKELY TO COST PHILEAS FOGG DEAR
4. - IV. IN WHICH PHILEAS FOGG ASTOUNDS PASSEPARTOUT, HIS SERVANT
5. - V. IN WHICH A NEW SPECIES OF FUNDS, UNKNOWN TO THE MONEYED MEN, APPEARS ON 'CHANGE
6. - VI. IN WHICH FIX, THE DETECTIVE, BETRAYS A VERY NATURAL IMPATIENCE
7. - VII. WHICH ONCE MORE DEMONSTRATES THE USELESSNESS OF PASSPORTS AS AIDS TO DETECTIVES
8. - VIII. IN WHICH PASSEPARTOUT TALKS RATHER MORE, PERHAPS, THAN IS PRUDENT
9. - IX. IN WHICH THE RED SEA AND THE INDIAN OCEAN PROVE PROPITIOUS TO THE DESIGNS OF PHILEAS FOGG
10. - X. IN WHICH PASSEPARTOUT IS ONLY TOO GLAD TO GET OFF WITH THE LOSS OF HIS SHOES
11. - XI. IN WHICH PHILEAS FOGG SECURES A CURIOUS MEANS OF CONVEYANCE AT A FABULOUS PRICE
12. - XII. IN WHICH PHILEAS FOGG AND HIS COMPANIONS VENTURE ACROSS THE INDIAN FORESTS, AND WHAT ENSUED
13. - XIII. IN WHICH PASSEPARTOUT RECEIVES A NEW PROOF THAT FORTUNE FAVORS THE BRAVE
14. - XIV. FOGG DESCENDS THE LENGTH OF THE BEAUTIFUL VALLEY OF THE GANGES WITHOUT EVER THINKING OF SEEING IT
15. - XV. IN WHICH THE BAG OF BANKNOTES DISGORGES SOME THOUSANDS OF POUNDS MORE
16. - XVI. IN WHICH FIX DOES NOT SEEM TO UNDERSTAND IN THE LEAST WHAT IS SAID TO HIM
17. - XVII. SHOWING WHAT HAPPENED ON THE VOYAGE FROM SINGAPORE TO HONG KONG
18. - XVIII. IN WHICH PHILEAS FOGG, PASSEPARTOUT, AND FIX GO EACH ABOUT HIS BUSINESS
19. - XIX. IN WHICH PASSEPARTOUT TAKES A TOO GREAT INTEREST IN HIS MASTER, AND WHAT COMES OF IT
20. - XX. IN WHICH FIX COMES FACE TO FACE WITH PHILEAS FOGG
21. - XXI. IN WHICH THE MASTER OF THE "TANKADERE" RUNS GREAT RISK OF LOSING A REWARD OF TWO HUNDRED POUNDS
22. - XXII. PASSEPARTOUT DISCOVERS IT IS CONVENIENT TO HAVE MONEY IN ONE'S POCKET AT THE ANTIPODES
23. - XXIII. IN WHICH PASSEPARTOUT'S NOSE BECOMES OUTRAGEOUSLY LONG
24. - XXIV. DURING WHICH MR. FOGG AND PARTY CROSS THE PACIFIC OCEAN
25. - XXV. IN WHICH A SLIGHT GLIMPSE IS HAD OF SAN FRANCISCO
26. - XXVI. IN WHICH PHILEAS FOGG AND PARTY TRAVEL BY THE PACIFIC RAILROAD
27. - XXVII. IN WHICH PASSEPARTOUT UNDERGOES, AT A SPEED OF 20 MPH, A COURSE OF MORMON HISTORY
28. - XXVIII. IN WHICH PASSEPARTOUT DOES NOT SUCCEED IN MAKING ANYBODY LISTEN TO REASON
29. - XXIX. IN WHICH CERTAIN INCIDENTS ARE NARRATED WHICH ARE ONLY TO BE MET WITH ON AMERICAN RAILROADS
30. - XXX. IN WHICH PHILEAS FOGG SIMPLY DOES HIS DUTY
31. - XXXI. IN WHICH FIX, THE DETECTIVE, CONSIDERABLY FURTHERS THE INTERESTS OF PHILEAS FOGG
32. - XXXII. IN WHICH PHILEAS FOGG ENGAGES IN A DIRECT STRUGGLE WITH BAD FORTUNE
33. - XXXIII. IN WHICH PHILEAS FOGG SHOWS HIMSELF EQUAL TO THE OCCASION
34. - XXXIV. IN WHICH PHILEAS FOGG AT LAST REACHES LONDON
35. - XXXV. IN WHICH PHILEAS FOGG DOES NOT HAVE TO REPEAT HIS ORDERS TO PASSEPARTOUT TWICE
36. - XXXVI. IN WHICH PHILEAS FOGG'S NAME IS ONCE MORE AT A PREMIUM ON 'CHANGE
37. - XXXVII. PHILEAS FOGG FINDS HE GAINED NOTHING BY HIS TOUR AROUND THE WORLD, UNLESS IT WERE HAPPINESS
PLOT - AROUND THE WORLD IN EIGHTY DAYS
The story starts in London on October 2, 1872. Phileas Fogg is a wealthy, solitary, unmarried gentleman with regular habits. The source of his wealth is not known and he lives modestly. He fires his former valet, James Forster, for bringing him shaving water two degrees too cold. He hires as a replacement Passepartout, a Frenchman of around 30 years of age.

Later that day in the Reform Club, he gets involved in an argument over an article in The Daily Telegraph, stating that with the opening of a new railway section in India, it is now possible to travel around the world in 80 days.

Fogg accepts a wager for £20,000 from his fellow club members, which he will receive if he makes it around the world in 80 days. Accompanied by his manservant Passepartout, he leaves London by train at 8.45 p.m. on October 2, 1872, and thus is due back at the Reform Club at the same time 80 days later, on December 21.
Many of his stories today seem a little tame, as technology has caught up with the imagination of the extraordinary French author, and Hollywood has discovered Computer Generated Images (CGI) allowing super heroes to grace our screens as never before. Computers are one thing that Verne did not imagine or seek to portray.
Beginning in late 1872, the serialized version of Verne's famed Around the World in Eighty Days (Le Tour du monde en quatre-vingts jours) first appeared in print. The story of Phileas Fogg and Jean Passepartout takes readers on an adventurous global tour at a time when travel was becoming easier and alluring. In the century plus since its original debut, the work has been adapted for the theater, radio, television and film, including the classic 1956 version starring David Niven. The TV series starring Pierce Brosnan released in 1989, runs for around 6 hours on 2 DVDs. A BBC TV travel documentary starring Michael Palin, was also screened in 1989. A second TV series starring David Tennant was produced by the BBC for 2021.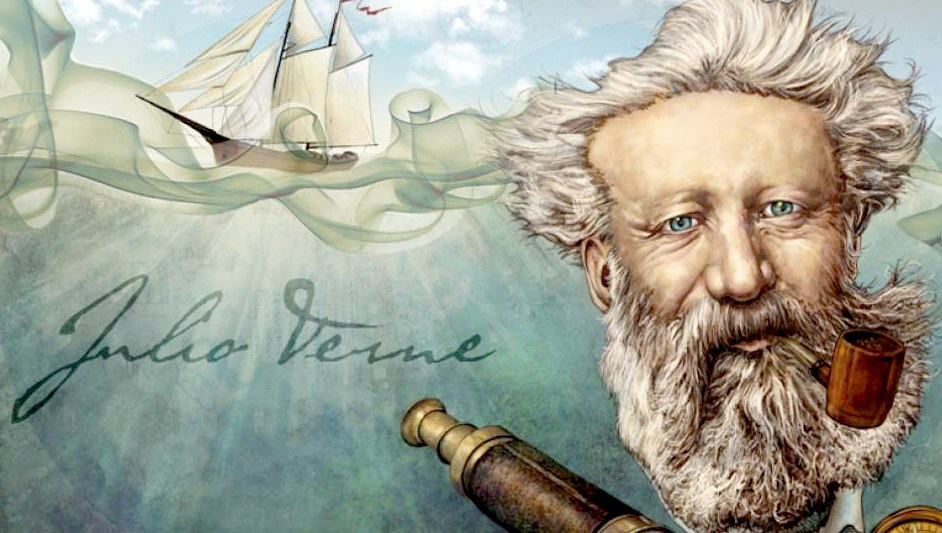 Jules Verne is known as the Father of Science Fiction
Where Jules Verne's suggested that it might be possible to travel Around The World In 80 Days, we would like to extend that ethos to include traveling in a Zero Emission yacht (ZEWT or ZEV) driven by electric hydro-jets? With the advent of solar power and liquid hydrogen, it is a distinct possibility - on a scale of the wager that the legendary Philleas Fogg entered into at the Reform Club in 1872.